Undgå at blive solskoldet – frem med den rette solfaktor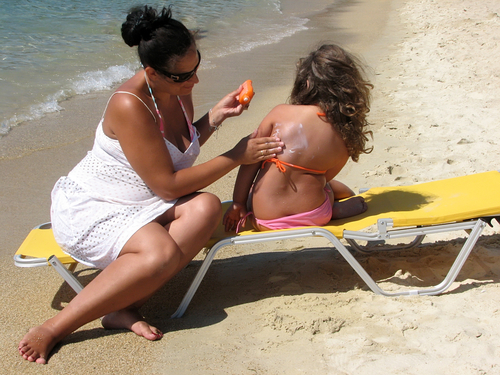 Tjek UV-stråling med appen UV-index, som virker i hele verden. Den UV-stråling, der kommer ned til jorden, afhænger af bl.a. skydække, ozonlagets tykkelse, solens stilling på himlen og mængden af partikler i luften.
Af Julie-Charlotte Plovst
Artiklen blev bragt i //mig// en del af magasinet sund-forskning – juni /juli 2016
Når du skal vælge solcreme, kigger du nok særligt efter solfaktoren, der står som et tal efterfulgt af forkortelsen SPF. SPF står for "sun protection factor" og er et relativt mål for, hvor længe en solcreme beskytter dig mod ultraviolette UVB-stråler. Tallet knytter sig kun til UVB-stråler, ikke UVA-strålerne. Der er dog et lovkrav om, at alle sollotions skal beskytte mod UVA/UVB i forholdet 1/3 til 2/3. På den måde er du sikret, at du også bliver beskyttet mod UVA-strålerne.
UVB-stråler er dem, der påvirker de yderste lag af huden og kan skabe solskoldning og rødme i huden. UVA-stråler trænger dybere ind i huden og kan skade cellerne i underhuden. Det kan føre til en fremskyndelse af hudens aldringsproces, da kollagen og elastin bliver nedbrudt. Derudover kan det føre til varige celleskader og hudkræft.
Undgå at blive solskoldet – frem med den rette solfaktor
Hvor lang tid, du kan være i solen uden at blive solskoldet, afhænger ikke kun af solfaktoren og mængden af solcreme, som du smører dig ind med. Tidspunktet p ække, din hudtype og endelig om din hud er i kontakt med vand, sand, sved eller tøj har alle betydning for, hvor meget UV-stråling, der reelt rammer din hud.
Mængden af solcreme
Det er vigtigt, at du smører dig med rigelige mængder solcreme regelmæssigt. Miljøministeriet anbefaler 40 ml til hele kroppen ved hver indsmøring, det halve til børn. En flaske med 200 ml solcreme rækker kun til to indsmøringer af to voksne og et barn. Solcreme med faktor 15 beskytter kun med cirka faktor 2, hvis der smøres med en fjerdedel af den anbefalede mængde.
Solfaktorens betydning
På nedenstående skema kan du se, hvor meget de forskellige solfaktorer beskytter mod solens UVB-stråler.
SPF15 beskytter mod 93 % af UVB-stråler
SPF30 beskytter mod 97 % af UVB-stråler
SPF50 beskytter mod 98 % af UVB-stråler
Preparing document for printing…