Jern til kvinder – for livskvalitetens skyld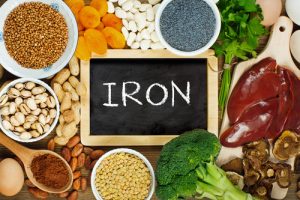 Er du plaget af meget kraftige menstruationsblødninger, kan det skabe jernmangel eller jernmangel-anæmi. Og du vil ikke kunne spise dig til et nyt jerndepot hver måned uden at tage et kosttilskud.
Af Ansofi Amalieh Larsen
Artiklen blev bragt i magasinet sund-forskning og //mig// – februar 2016
Op til 40 % af danske kvinder lider af jernmangel på grund af menstruation, hvilket gør de månedlige blødninger til en af de hyppigste årsager til jernmangel hos kvinder – så det er ikke underligt, hvis du genkender symptomerne.
Jernmangel giver symptomer som:
Træthed
Svimmelhed
Nedsat fysisk ydeevne
Hjertebanken
Åndedrætsbesvær
Hovedpine
Øresusen
Nedsatte kognitive evner
Ringere fysiske præstationer
Dårligt humør
Vi mister 2 ml blod hver dag
Jern er medvirkende i dannelsen af proteinet hæmoglobin, som findes i de røde blodceller, der bærer ilten rundt i kroppen. Vi taber alle sammen jern – et gennemsnitligt tab er omkring 1 mg jern pr. døgn, som svarer til 2 ml blod.
Værre er det for kvinder i den fertile alder, for her mister mange så meget blod, at behovet for jerntilførsel er dobbelt så stort, som hos andre.
Vi optager kun 1-10% af det jern, vi indtager gennem kosten. Og det er ofte ikke nok, og derfor kan mange kvinder have glæde af et tilskud af jern.
Sørg også for at spise en kost, der består af fisk, kød, lever, bønner, spinat, rødbede, kerner, frø, æg, fuldkorn, frugt og grønt.
Men er du i kronisk jernunderskud, bør du følge op med et kosttilskud af en god kvalitet.
Gå til lægen, og få det målt korrekt
Jernmangel kan måles ved en blodprøve. Kvinder med et optimalt niveau af hæmoglobin kan have en underliggende latent jernmangel, hvilket kan afsløres med en blodprøve, hvor man måler indholdet af ferritin. Så bed din læge om at måle begge dele med det samme.
En finsk undersøgelse offentliggjort i tidsskriftet Acta Obstetricia et Gynecologica Scandinavia viser, at kvinder med kraftig menstruation ved hjælp af jerntilskud eller en tilstrækkelig jernrig kost kan få større overskud, forbedre de kog-nitive evner, fysiske præstationer og deres humør.
Amino Jern fra PharmoVital binder sig til aminosyrer, og det gør kroppen i stand til at optage mineralet optimalt. Jern har også en positiv virkning på hår, hud og negle, hudens kulør, elledeling, vækst og indlæring og energiomsætningen i kroppen.
Preparing document for printing…