Stof gør ældre hjerner yngre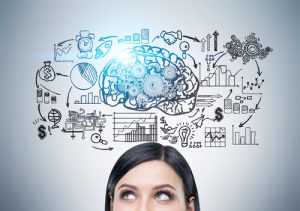 Forsøg med planteekstrakten Ginkgo biloba viser, at de aktive stoffer får ældre kvinders hjerner til at fungere som hos yngre kontrolpersoner og forkorter reaktionstiden.
Af Bjørn Falck Madsen
Artiklen blev bragt i magasinet sund-forskning og //mig// – februar 2016
Selvom vi ældes udvendigt, kan vi sagtens føle os unge som teenagere indvendigt ved blot at være friske i sindet. Det indebærer blandt andet hurtige reaktioner og effektiv koncentrationsevne. En gruppe japanske forskere har peget på planteekstrakten Ginkgo biloba som en spændende kilde til åndsfriskhed.
Forskerne udførte et forsøg for at måle, hvordan Ginkgo biloba påvirkede iltningen af blodet i den forreste del af hjernen (frontallappen), og
hvilken virkning dette havde på hukommelsen. 15 yngre og 19 midaldrende sunde og raske kvinder deltog i forsøget.
Først sammenlignede forskerne de to grupper af kvinder dels ved at udsætte dem for en hukommelsestest og dels ved at se på, hvordan hjernen blev aktiveret hos de to grupper. Det viste sig blandt andet, at de ældre kvinder havde langsommere reaktionstid end de yngre, og samtidig blev begge sider af deres hjerne aktiveret, hvor det især var højre side af hjernen, der blev aktiveret hos de yngre.
Det ændrede sig, efter de midaldrende fik 120 mg Ginkgo biloba ekstrakt dagligt i seks uger. Herefter kunne forskerne måle, at deres reaktionstid var blevet kortere, og samtidig var det primært højre side af deres hjerne, som blev aktiveret – akkurat som hos de yngre kvinder.
På baggrund af deres undersøgelse konkluderede forskerne, at Ginkgo biloba ser ud til at forbedre arbejdshukommel-sen hos midaldrende kvinder ved at modvirke nogle af de aldersforandringer, der sker helt naturligt i hjernen.
Hvad du ikke får at vide om Ginkgo biloba
Der er et stort marked for Ginkgo biloba, og hylderne bugner af forskellige præparater i alle mulige prisklasser. En ting, som du bør vi de om Ginkgo biloba – men som normalt ikke bliver omtalt – er , at denne ret unikke plantekstrakt er uhyre sart og blandt andet følsom over for varme. Når man fabrikerer tabletter med for stort pres, udvikles der varme, som kan ødelægge de aktive stoffer. Det er de færreste producen-ter, som er klar over dette, og resultatet er, at præparater med nok så højt indhold af Ginkgo biloba-ekstrakt i virkeligheden kan være virkningsløse.
Britisk test overraskede
Det så man et forbløffende godt eksempel på i en britisk sammenligning af 18 forskellige Ginkgo biloba-præparater, hvor forskerne målte præparaterne på deres antioxidant-styrke (Ginkgo biloba er en meget kraftig og effektiv antioxidant). Mange af de præparater, som havde allerhøjest indhold af ekstrakt, klarede sig overraskende ringe. Det danske præparat Bio-Biloba, som havde den bedste virkning, indeholdt til sammenligning væsentlig mindre ekstrakt end mange af de andre produkter i testen.