Når et hvidløg går i sort…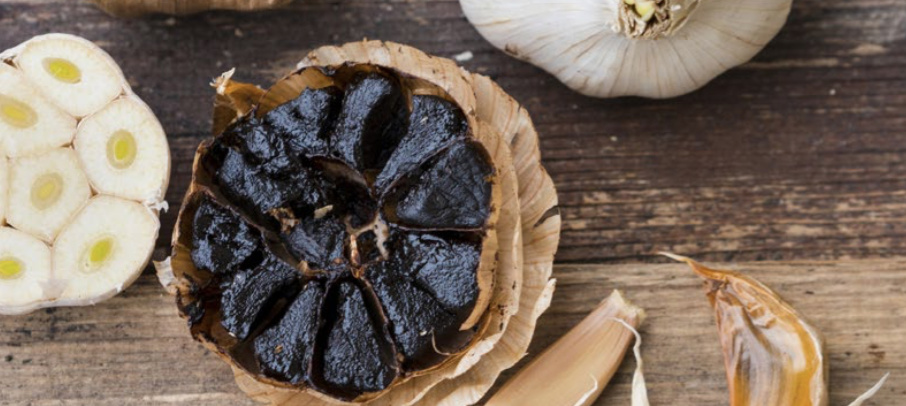 Det er vældig populært i udlandet, og nu er det endelig kommet til Danmark. Ved at fermentere det hvide løg slipper du ikke kun for lugten, du fremmer også de aktive stoffer sådan "gange 100". Og så bliver det lige pludselig velegnet til alle, også dem der har lidt sarte maver.
Af Marianne Palm
Artiklen blev bragt i magasinet sund-forskning og //mig// – august-september 2016
Det er et helt almindeligt hvidløg, der gennem en forvand- lingsproces bliver sort. Det sker gennem 30 dage med kontrol- leret varme og luftfugtighed og efterfølgende tørring i 45 dage. Teknikken er udviklet i Korea, og der anvendes ingen kemiske sto er eller konserveringsmidler i fremstillingen, kun varme, fugtighed og tid. Undervejs skifter hvidløgene farve, de får en blødere konsistens, og smagen bliver rund og sød. Den skarpe smag og lugt forsvinder helt og kan derfor tåles af alle.
Fordelene ved processen er bl.a., at de ellers meget ustabile svovl- forbindelser bliver meget stabile, og det er en af årsagerne til, at de sorte løg kan have større e ekt, end da de blev høstet som hvidløg. Derudover indeholder hvidløget vigtige komponenter til hele kroppen, fx polyphenoler, der fungerer som en antioxi- dant, en hel del zink, mangan, kobber og selen samt ere andre aktive indholdssto er, der også hjælper på bl.a. immunforsvar og kredsløb.
Det virker det sorte hvidløg på….
Virker mod bakterier, vira og svampe ved bl.a. at være lokalt desin cerende i tarmene og i det hele taget at skabe et bedre immunforsvar
Fremmer leverens funktioner og enzymsystemer og beskytter og afgifter derfor alskens sto er i det moderne liv
Fremmer stofskiftet ved at hjælpe med nedbrydningen af fedt og sukker
Appetitregulerende
Hindrer frie iltradikaler i at skade vores celler
Virker gunstigt på vores kredsløb ved at fremme kredsløbet og være kolesterolsænkende
Hjælper på luftvejsproblemer
Også til sportsfolk
Både motionister og elitesportsfolk kan have glæde af de sorte hvidløg. Ved at fremme kroppens tolerance over for stress, vil der være færre problemer med immunforsvaret, og også kreds- løbet får hjælp til hurtigere at regenerere. Lungekapaciteten kan øges, og der sker en bedre iltning af blodet, som skaber bedre resultater rent sportsmæssigt, men også hjælper muskler og hud med bedre at kunne tolerere strabadserne på langdistancesports- grene og ved sportsgrene, der involverer sprint og hurtighed.
Nogle af studierne antyder, at hvidløg kan være et vigtigt supplement til hormonsystemet, der jo også er under pres ved elitesport.
Fedtforbrænding
Hvis du dyrker motion, ser det ud til, at de små aktive sto er fra hvidløget let kan komme ind i fedtcellerne og trække næringsstoffer med sig, så man skaber et hurtigere stofskifte i cellerne.
Kredsløbsfremmende og kolesterolsænkende
Uanset om du har forhøjet kolesterol eller ej, vil hvidløg kunne gøre en forskel for dit kredsløb. De mange aktive sto er sørger tilsammen for, at blodet kan rulle raskere i årerne, fjerner plak, som er forløber for åreforkalkning, og kan også afhjælpe de inflammationer, der kan opstå i blodkarvæggene.
At skabe en god udrensning i dagligdagen
Det moderne menneske bliver konstant udsat for et væld af toxi- ner og kemikalier, som kroppen skal tage stilling til. Når de at trænge ind over det naturlige værn, slimhinderne, vil det først og fremmest være leveren, der skal tage stilling til, hvordan sto erne hurtigst muligt kan ernes fra kroppen igen. Nogle af sto erne gøres vandopløselige, så de kan udskilles over nyrerne, andre forbliver fedtopløselige og udskilles med galde til tarmsystemet. Hvidløg har været kendt for sin evne til at være særlig e ektiv i dette arbejde, og en naturlig positiv konsekvens er en krop, der ikke ophober a aldssto erne i fx muskler, hud og bindevæv. Derfor har man gennem alle tider kunnet se, at hvidløg ikke kun virker på enkelte problemstillinger i kroppen, men har en særlig god effekt overalt.
Ondalium fra Panacea
I Danmark hedder produktet Ondalium. Det er en ekstrakt af økologisk sort-fermenteret hvidløg, og 15 dråber om dagen i lidt vand er nok.
Kilder:
1-Allicinfacts (2010). "Garlic History". www.allicinfacts.com/garlic-history/ 2-İnce, Deniz İnal, Gül Tiryaki Sönmez, and Mustafa Levent İnce. "E ects of garlic on aerobic performance." Turkish Journal of Medical Sciences 30.6 (2000): 557-561
3-Morihara N, Ushijima M, Kashimoto N, Sumioka I, Nishihama T, Ha- yama M, Takeda H. Aged garlic extract ameliorates physical fatigue. Biol Pharm Bull. 2006.May;29(5):962-6. PubMed PMID: 16651727 4-Morris DM, Beloni RK, Wheeler HE. E ects of garlic consumption on phy- siological variables and performance during exercise in hypoxia. Appl Physiol Nutr Metab. 2013 Apr;38(4):363-7. doi: 10.1139/apnm-2012-0210. Epub 2013 Mar 20. PubMed PMID: 23713527
5-Oi, Yuriko, et al. "Garlic supplementation increases testicular testosterone and decreases plasma corticosterone in rats fed a high protein diet." e Jour- nal of nutrition 131.8 (2001): 2150-2156
6-Ahmadi N, Nabavi V, Hajsadeghi F, Zeb I, Flores F, Ebrahimi R, Budo M. Aged garlic extract with supplement is associated with increase in brown adipose,decrease in white adipose tissue and predict lack of progression in coro- naryatherosclerosis. Int J Cardiol. 2013 Oct 3;168(3):2310-4. doi:10.1016/j. ijcard.2013.01.182. Epub 2013 Mar 1. PubMed PMID: 23453866 7-NTSHealth. "Germanium- e Multi-Funtion Marvel". www.ntshealth. com.au/wellness/blog/germanium.html
8-Nutrition & Metabolism 20074:24 DOI: 10.1186/1743-7075-4-24© Nimni et al; licensee BioMed Central Ltd. 2007 Received: 08 May 2007Ac- cepted: 06 November 2007Published: 06 November 2007
9-Seo, Dae Yun, et al. "Aged garlic extract enhances exercise-mediated im- provement of metabolic parameters in high fat diet-induced obese rats." Nu- trition research and practice 6.6 (2012): 513-519
10-Dae Yun, et al. "E ects of aged garlic extract and endurance exercise on skeletal muscle FNDC-5 and circulating irisin in high-fat-diet rat models." Nutrition research and practice 8.2 (2014): 177-182
11-Toledano-Medina MA, Pérez-Aparicio J, Moreno-Rojas R, Merinas-Amo T. Evolution of some physicochemical and antioxidant properties of black garlic whole bulbs and peeled cloves. Food Chem. 2016 May 15;199:135-9. doi: 10.1016/j.foodchem.2015.11.128. Epub 2015 Nov 30. PubMed PMID: 26775954