Det sorte guld fra det gamle Egypten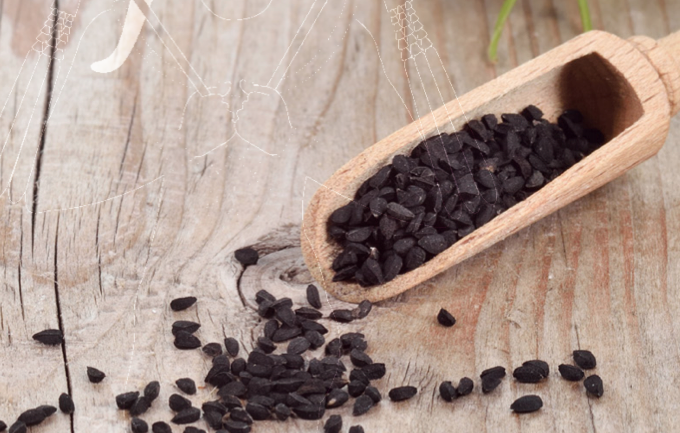 De gamle egyptere begravede farao Tutankhamon i 1323 f.Kr. med en overdådig guldmaske – og en flaske sortkommenolie til brug i efterlivet. Hvad skulle han dog med den? Måske styrke immunforsvaret, mildne allergiske reaktioner samt hudlidelser. Det er i hvert fald, hvad forskningen 3338 år senere peger på som mulige egenskaber ved de små sorte frø.
Af Kristine Bindslev
Artiklen blev bragt i magasinet sund-forskning og //mig// – juni/juli 2015
Duften af sorte kommenfrø, måske bedre kendt som nigellafrø, hensætter dig garanteret straks til det tyrkiske fladbrød naan og Mellemøsten, hvor frøene også kaldes "det sorte guld". Nigellafrø er hårde, sorte og smager let bittert som karse, men har også en let sødme. Både for sine kulinariske og sundhedsmæssige egenskaber er sortkommenfrø en af de tidligst dyrkede planter i menneskets historie. Fordi arkæologerne fandt flasken i faraoens grav, kan man præcist datere brugen og med nutidens forskningsmetoder undersøge virkningerne af sortkommenolie.
"Kurerer alt – undtagen døden"
Det er ikke kun en egyptisk farao, der havde glæde af sortkommenolie på den lange rejse hinsides.
Kleopatra og den smukke egyptiske dronning Nefertite plejede deres hud, hår og negle med den kostbare olie. Den græske læge Hippokrates fra 460 til 351 f.Kr. brugte de sorte frø til fordøjelsen og stofskiftelidelser. Og for halvandet årtusind siden skrev profeten Muhammed i sin bog Hadith om den egyptiske sortkommen: "Egyptisk sortkommen kan helbrede alle sygdomme – undtagen døden". 
Sortkommenolie til alskens problemer
Det er en gavmild vurdering af et naturpræparat, men siger nok mere om datidens behandlingsmuligheder end om sortkommenoliens egenskaber. Et studie foretaget af iranske forskere har dog vist i et dobbeltblindet randomiseret forsøg med 20 overvægtige kvinder, at et tilskud af sortkommenfrø i 8 uger virkede sænkende på totalkolesterolet og gavnede kvindernes hjerte-kredsløbssystem.
Virkninger af sortkommen undersøges i undersøgelser verden over. Her ser forskere, hvordan frøenes olie afhjælper akne, kløe, skæl, allergi og gigt. Amerikanske forskere har desuden i reagensforsøg påvist immunregulerende og krampeløsende effekter af sortkommenfrøene. Der findes desuden enkelte studier, der indikerer, at sortkommenolie muligvis kan have en effekt på blodtrykket hos rotter.
Effekt på leddegigt 
Et studie fra 2012 har vist, at sortkommenolie muligvis har en effekt på leddegigt. Studiet bestod af 40 kvindelige patienter med leddegigt. Ved at tage udgangspunkt i patienternes sygdomsaktivitet, morgenstivhed samt antal hævede led kunne man måle effekten af sortkommenolie. Resultatet var, at dem, der anvendte sortkommenolie oplevede en positiv effekt på alle 3 faktorer. Sortkommenolie kan derfor muligvis anvendes som en naturlig og økonomisk overkommelig behandlingsmulighed. Forskere har endvidere lokaliseret sortkommenolies anti-inflammatoriske egenskaber. Et af stofferne i sortkommenolie, thymoquinon, virker anti-inflammatorisk. Netop antioxidanten thymoquinons antibakterielle egenskaber er godt dokumenteret. Stoffet har bl.a. en hæmmende effekt på bakterien S. Aureus, også kaldet stafylokokker i daglig tale.
Slår man op i et krydderurte-leksikon vil man se, at de sorte frø fremmer fordøjelsen, virker vanddrivende og afførende. Og vi ved, at hovedbestanddelen i frøene er 21 % protein samt 35% olie. Olien er gyldengul og stærkt aromatisk. Den indeholder ca. 85 % af de sundhedsfremmende umættede fedtsyrer heraf ca. 25 % enkeltumættede fedtsyrer og ca. 60 % dobbeltumættet linolsyre (omega-6-fedtsyrer). De sorte Nigellafrø indeholder over 100 kemiske forbindelser, og langt fra alle er kortlagt, så der er et stykke vej endnu, mens videnskaben forsker videre, og faraoen vender sig i sin grav.
Ophav
Sortkommenolie stammer fra Nigella sativa planten, der tilhører ranunkelfamilien. Sortkommen har intet tilfælles med kommen eller spidskommen. De to sidstnævnte er derimod nært beslægtede og tilhører skærmplantefamilien. Den blåt-blomstrende plante har været dyrket først og fremmest i Egypten, men nu også i Tyrkiet og Syrien. De sorte, trekantede frø sidder i en kapsel, der ligner valmuens. Den let bitre og samtidig skarpe peberagtige smag skyldes indholdet af æterisk olie (0,5-1 %) samt bitterstoffet nigellin.
Sortkommenolien indeholder nigellin, beta-sitosterol, thymoquinon, myristinsyre, palmitinsyre, stearinsyre, palmitoleic syre, oliesyre, linolsyre, arachidonsyre, proteiner og vitaminer B1, B2 og B3 samt calcium, folsyre, jern, kobber, zink og fosfor.
Forholdsregler
Sortkommenolie kan medføre allergiske udslæt i huden, når den påsmøres (især ufortyndet).
Gravide og ammende kvinder: Sortkommen i kapselform og sortkommenolie bør kun indtages i moderate mængder.
Natur-Drogeriet producerer sortkommenolie og kapsler udvundet af naturlige råstoffer med højeste krav til renhed og kvalitet.
Referencer:
1] Ahmad A1, Husain A, Mujeeb M, Khan SA, Najmi AK, Siddique NA, Damanhouri ZA, Anwar F, Kishore K.; "A review on therapeutic potential of Nigella sativa: A miracle herb," Asian Pac J Trop Biomed., 2013 May, PMID: 23646296.
[2] IBID.
[3] Salem ML.; "Immunomodulatory and therapeutic properties of the Nigella sativa L. seed," Int Immunopharmacol. 2005 Dec, PMID: 16275613.
[4] IBID.
[5] Entok E1, Ustuner MC, Ozbayer C, Tekin N, Akyuz F, Yangi B, Kurt H, Degirmenci I, Gunes HV.; "Anti-inflammatuar and anti-oxidative effects of Nigella sativa L.: 18FDG-PET imaging of inflammation," Mol Biol Rep. 2014 May, PMID: 24474661.
[6] Vanamala J1, Kester AC, Heuberger AL, Reddivari L.; "Mitigation of obesity-promoted diseases by Nigella sativa and thymoquinone," Plant Foods Hum Nutr. 2012 Jun, PMID: 22477645.
[7] Hasani-Ranjbar S1, Jouyandeh Z, Abdollahi M.; "A systematic review of anti-obesity medicinal plants – an update," J Diabetes Metab Disord., 2013 June 19, PMID: 23777875.
[8] Farzaneh E1, Nia FR2, Mehrtash M2, Mirmoeini FS3, Jalilvand M1.; "The Effects of 8-week Nigella sativa Supplementation and Aerobic Training on Lipid Profile and VO2 max in Sedentary Overweight Females," Int J Prev Med., 2014 February, PMID: 24627749.
[9] Oysu C1, Tosun A1, Yilmaz HB2, Sahin-Yilmaz A3, Korkmaz D1, Karaaslan A1.; "Topical Nigella Sativa for nasal symptoms in elderly," Auris Nasus Larynx. 2014 Jun, PMID: 24398317