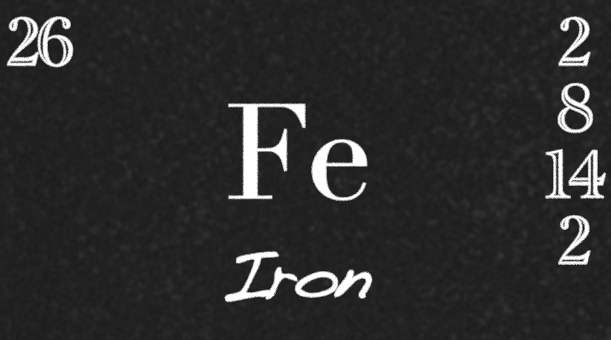 Jern er et af kroppens vigtigste sporstoffer, fordi det indgår i de røde blodlegemers hæmoglobin, som forsyner kroppens celler og væv med ilt. Kroppen har en begrænset evne til at udskille jern gennem tarmen, galden, urinen og huden. Desuden udskilles jern gennem menstruation og modermælk. Et voksent menneske indeholder omkring 3-6 gram jern. En liter blod indeholder cirka 500 mg. 
Funktioner og betydning for
Energiomsætning 
Dannelse af røde blodlegemer
Transport af ilt rundt i kroppen
Kroppens celledeling
Vækst og indlæring
Immunforsvaret og hvide blodlegemer
Sund kulør
Hud, hår og negle
Mangler og dårlig udnyttelse forårsages af
Menstruation – specielt kraftige eller langvarige
Blødninger og donation af blod
Graviditet
Hårdt arbejde og udholdenhedssport
For lidt mavesyre
Højt indtag af bicarbonat (fx natron), der hæmmer mavesyre
Mangelfuld kost, især vegetar- og veganerkost
Stort forbrug af kaffe og te, fordi garvesyre binder jern
Oxalsyre. Findes fx i syreblade, te, spinat, kakao, rabarber.
For mange kostfibre
Mange mejeriprodukter (på grund af calcium)
Calciumtilskud og mangantilskud
Længere tids brug af følgende lægemidler:

Syreneutraliserende, der indeholder calcium, magnesium og aluminium
Aspirin, kodimagnyler og anden medicin med acetylsalicylsyre
Tetracyklin mod akne og infektioner
Gigtmedicin af typen NSAID
Antabus mod alkoholisme
Etidronat mod knogleskørhed
Mangelsymptomer
Træthed, indre uro og koncentrationsbesvær
Hovedpine og eventuelt øresusen
Bleghed og manglende vitalitet
Svimmelhed, åndenød og hjertebanken
Meget tør hud og pletvis pigmentforandring.
Nedsat modstandskraft og tørre slimhinder
Revner ved mundvige og andre kropsåbninger
Forstyrrelser i hår- og neglevækst
Blodmangel – opstår som regel efter længere tids jernmangel, når depoterne er opbrugt.
Organsvigt og død ved længere tids kronisk jernmangel, hvor depoterne er udtømt
Hos børn: nedsat vækst og indlæringsproblemer
Kilder
Især lever, kød, græskarkerner, frø, bønner, brændenælde, spinat, abrikoser, fuldkorn, rødbede, og æg. Desuden fisk og anden frugt og grønt.
Anbefalet daglig tilførsel
Varierer efter køn, alder og menstruation
Børn 1-10 år: 8 mg
Voksne 11 år og opefter (ikke menstruerende kvinder): 9 mg
Kvinder, menstruerende: 15 mg
Øget behov
Menstruation – specielt kraftig eller langvarig
Blodtab efter mavesår, kvæstelser, donation af blod mv.
Mindre børn og børn i vækst
Graviditet
Vegetarer og veganere
Ældre med mangelfulde kostvaner
Fysisk hårdt arbejde eller udholdenhedssport
Manglende evne til at optage jern
Omtalte mangelsymptomer, hvis jernmangel er årsagen
Vigtigt at vide
Man kan godt have jernmangel uden at have blodmangel.
Op til 40 % af danske kvinder lider af jernmangel, specielt på grund af menstruation.
20 % af danske gravide kvinder udvikler jernmangel.
Vær også opmærksom på eventuel jernmangel hos børn, da det kan skade deres vækst og udvikling.
Overdosering – bivirkninger
Symptomerne hænger primært sammen med indtagelse af jerntilskud
Kvalme og opkastning
Mavesmerter
Diarre eller forstoppelse
Sort- eller grønfarvning af afføring
Reference: 
http://healthandscience.eu/index.php?option=com_content&view=article&id=266:jern-fe&catid=45:vitamin-og-mineral-guiden&Itemid=293&lang=da
Læs mere her
Jern livsvigtigt – mange får for lidt
Jern er et af de mest alsidige mineraler med et væld af funktioner i menneskets stofskifte. Samtidig er mangel på dette mineral, på verdensplan, den hyppigst forekommende mangel på noget næringsstof overhovedet.