Når stress står i vejen for vægttab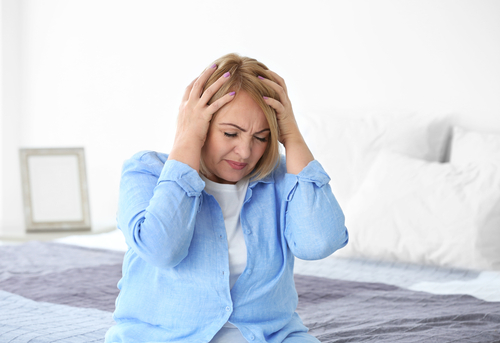 Af  Umahro Cadogan
Artiklen blev bragt i //mig// en del af magasinet sund-forskning – vinter 2015
Der hersker ikke nogen tvivl om, at stress er en vigtig faktor i forhold til fedme og overvægt. Her er ikke tale om den kortvarige her-og-nu-stressreaktion – det bliver vi alle sammen til tider udsat for – men om de stressreaktioner, vi er udsat for over en længere periode.
Stress foregår på to niveauer. I klassisk psykologisk følelsesmæssig forstand, hvor man ændrer humør, mister overblik-ket og koncentrationen bliver forringet, og ved en fysiologisk stressrespons med produktion af flere stresshormoner, højere sympatikusaktivitet og hvor andre biokemiske reaktioner også påvirkes.
Stimulation af fedtceller
Ved konstant høje stressniveauer i lang tid, kan stresshormonet cortisol over tid stimulere sult og lysten til at spise. Cortisol vil også stimulere væksten af bugfedt og hæmme frigivelse af fedt fra fedtvævet. Det kan også føre til insulin-resistens, hvor blodsukkeret påvirkes, og føre til en blodsikkerstigning, der kan være medvirkende til udviklingen af metabolsk syndrom.
Stress af, før du ændrer på din kost og motionsvaner
Der er overvægtige personer, som gør alt det rigtige, men hvor deres sunde kost og ihærdige motion simpelthen ikke virker. Det skyldes, at stressniveauet er for højt.
Derfor er personer, som lider af overvægt og bugfedt, i første omgang bedre tjent med at mindske stressbelastningen fremfor udelukkende at tænke på kost og motion.
Hvilken form for motion skal jeg dyrke, hvis jeg er stresset og overvægtig?
Du skal gå rigtig meget og gerne ude i naturen. Det har en direkte afstressende effekt samtidig med, at du mobiliserer fedt og forbrænder kalorier ved bevægelse på et skånsomt niveau uden at presse din krop. Begynd også at lave bevæg-elsesformer, hvor du kommer i kontakt med din krop – det kan virke afstressende og gøre, at du fornemmer dig selv og begynder at registrere, hvilke ting der stresser dig. Det sker ofte, at man bliver "fartblind" – man kan slet ikke mærke de ting, der stresser en.
Muskel-og styrketræning er også gavnligt, da det på sigt øger muskelmassen og forbrændingen. Hvis du ikke har trænet
før, så er 15 minutter 3-4 gange om ugen nok til at få en god effekt. Men begynd med at være blid ved dig selv
Om Umahro Cadogan
Umahro Cadogan er ernæringsekspert og madnørd, kendt fra kogebøger og TV-foredragsholder og underviser i sund-hed og ernæring bl.a. som Adjunct Professor på University of Western States. Umahro mener, at selvfølgelig skal mad være sundt, men det skal også smage fantastisk og være en nydelse. Det samme skal motion være – en nydelse, så hver en celle smiler til dig og bærer dig videre gennem livet. Umahro er tillige kendt for på sin helt egen måde at kombinere elitesport med den rette ernæring, så glæd dig til helt nye vinkler på sport og spisevaner.