Svenske forskere viser vejen for ældre: Så let kan man øge sin livskvalitet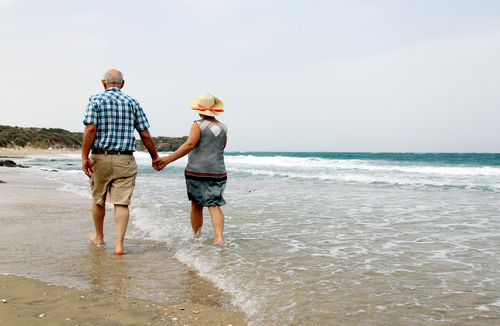 Mange ældre savner livskvalitet, men det kan man selv gøre noget ved, viser svenske forskere med en ny undersøgelse. Hvis man tager tilskud af de to stoffer selen og coenzym Q10, giver det øget velvære både fysisk og mentalt, og antallet af hospitalsindlæg-gelser daler tilmed også.
Af Bjørn Falck Madsen
Artiklen blev bragt i magasinet sund-forskning og //mig// – august/september 2015
Da en gruppe svenske forskere i 2012 offentliggjorde de forbløffende resultater af den såkaldte KiSel-10 undersøgelse i tidsskriftet International Journal of Cardiology, skabte nyheden overskrifter i medier over hele verden. Forskerne havde påvist, at man ved at give ældre mennesker en daglig kombination af selen og coenzym Q10 kunne reducere risikoen for hjerte-kar-relaterede dødsfald med 54 %. Ikke nok med det, hjertemuskelfunktionen blev også forbedret betydeligt. Forskerne selv var temmelig forbløffet over resultaterne og besluttede at kigge nærmere på tallene.
Fik det bedre fysisk og psykisk
Det viste sig at være en rigtig god ide. Deres nye analyse af datamaterialet fra det oprindelige studie afslørede nemlig, at de ældremænd og kvinder, som havde taget tilskud af selen og coenzym Q10, tilbragte 13 % færre dage på hospitalet sammenlignet med dem, der fik identiske snydepiller med inaktivt stof (placebo). Udover dette var livskvaliteten hos de selen- og coenzym Q10-behandlede væsentligt højere. Det viste sig især ved, at de havde mere energi og generelt følte sig betydeligt bedre tilpas, både fysisk og mentalt.
Nøgleordet hedder prævention
Både den originale KiSel-10 undersøgelse og den sekundære opfølgning beviser tydeligt, at selen og coenzym Q10 er vigtige stoffer til forebyggelse af nogle af de problemer, som typisk rammer folk senere i tilværelsen, og som normalt kræver medicinsk behandling eller lægelig overvågning. Med forhøjet energiniveau og forbedret hjertemuskelfunktion er ældre langt bedre rustet til at fortsætte med deres aktive livsstil. Det at kunne holde sig aktiv langt op i alderen er en af de bedste måder at bevare livskvaliteten på. Det er desuden igennem en sund og aktiv livsstil, at man effektivt holder ældningsprocessen i skak.
 
Dokumenteret kvalitet
De to præparater, som blev anvendt til ovennævnte forskning, nemlig Bio-Qinon Q10 og SelenoPrecise, er kvalitetspræparater udviklet og fremstillet af den danske lægemiddelvirksomhed Pharma Nord. Med flere end 100 offentliggjorte undersøgelser har Bio-Qinon Q10 særdeles omfattende dokumentation for præparatets optagelighed og sikkerhed. Udover dette er Bio-Qinon Q10 officielt reference-præparat for International Coenzyme Q10 Association (ICQA), som er den internationale organisation, der koordinerer Q10-forskning i hele verden.
Q10-niveauet daler med alderen
Stoffet coenzym Q10 findes i en række fødevarer, men vi kan også danne det selv i kroppen. Størsteparten af vores Q10 bliver produceret i leveren. Kroppens egenproduktion af stoffet når sit højeste omkring 20-25-årsalderen. Herefter går det den anden vej. Efterhånden som vi bliver ældre, mindskes cellernes indhold af Q10. Det er normalt ikke noget, man mærker til, før man er midtvejs i livet. Vi bliver hurtigere udmattet og har ikke det samme høje energiniveau som tidligere. I forbindelse med visse kroniske sygdomme, for eksempel hjertesvigt og tandkødsbetændelse, er der observeret unormalt lavt indhold af Q10 i henholdsvis hjertemusklens celler og tandkødet.
Et dagligt tilskud af Q10 i kapselform kan foruden at øge energiniveauet mærkbart føre til markante forbedringer af hjertemuskelfunktionen, og man har ligeledes observeret, hvordan Q10 er med til at forebygge, og i nogle tilfælde ligefrem helbrede, parodontose. Stoffet hjælper cellerne med at danne energi, så helingsprocesser og øvrige biologiske funktioner bliver støttet på en helt naturlig måde.