Videnskabelige facts om hvorfor du skal spise mere chokolade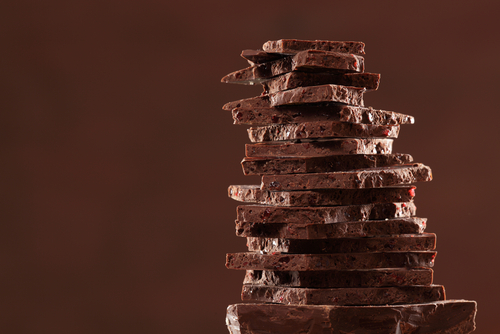 Der er mange gode grunde til at spise chokolade. Chokolade gør dig lykkelig. Det vil mange kvinder sikkert være helt enige i – og forskningen bakker endda op om dine chokoladelyster! Men det skal helst være næringsstoffer og de specielle alkaloider, som giver kakaoen dens dejlige effekter.
Af Caroline Fibæk, naturopath ibm og madskribent
Artiklen blev bragt i //mig// en del af magasinet sund-forskning – juni/juli 2016
Her har du fem grunde til, at du skal spise mere chokolade
1) Antioxidantbombe mod hjerte-kredsløbssygdomme:
Rå og uforarbejdet kakao har den højeste antioxidantværdi af alle de naturlige fødevarer i verden! Nylige videnskabe-lige undersøgelser har vist en sammenhæng mellem kakao og hjerte-kar-sundhed, med nedsat risiko for blodpropper, slagtilfælde og hjerteanfald.
2) Kakao som lykkepille
Kakao indeholder aminosyren tryptophan, som er nødvendig for dannelse af neurotransmitteren serotonin, som frem-mer følelsen af lykke og modvirker depression.
3) Theobromin – den nye kaffe
Kakao øger energiniveauet, da det indeholder to stimulerende methylxanthiner – en betydelig mængde af theobromin og en lille mængde koffein.
4) Kakao som hostemedicin
Kodein er den mest brugte medicin mod hoste. Men den er kun marginalt bedre end snydemedicin og har bivirkninger på centralnervesystemet, og en sløvende effekt. Theobromin og theophyllin fra kakao har vist sig mere effektivt og har færre bivirkninger.
5) Stresshæmmer
Kakao ser ud til at have en normaliserende effekt på kronisk forhøjede kortisolniveauer. Studier viser, at omkring 40 gram dagligt har en positiv effekt på forhøjede kortisolniveauer, som er et tegn på stress.
Prøv fx denne energibooster af en kakaodrik
Er du helt energiforladt, så prøv denne drik, som er lige så let at lave som stempelkaffe.
Det skal du bruge:
1 spsk. mate
1 spsk. macapulver
1 spsk. rå kakaopulver
0,5 liter kogt vand, nedkølet til cirka 80 grader
Sådan gør du:
Hæld mate, maca og rå kakaopulver i en stempelkande, og overhæld med kogt vand. Lad blandingen trække i 10 minutter, inden stemplet presses ned. Sød eventuelt med lidt birkesød eller stevia. 
Preparing document for printing…