Blærebetændelse, igen og igen og igen!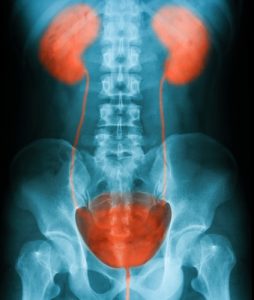 Du er ikke alene. Faktisk deler du skæbne med tusindvis af kvinder over det ganske land. Mange aner ikke, at de har kronisk blærebetændelse, andre mærker det som en mere eller mindre konstant svien ved vandladning. Et er sikkert. Jo mindre vand du drikker, jo værre får du det (!). Men vand alene kan ikke gøre det, ej heller den periodevise nødvendige sulfa fra lægen. Du er nødt til at tage vandkanden i den ene hånd og et veldokumenteret kosttilskud i den anden, hvis du vil sikre en god sundhed til din blære.
Af Marianne Palm
Artiklen blev bragt i //mig// en del af sund-forskning – juni /juli 2016
Svien ved vandladning, tyngde i underlivet, følsomme slimhinder og bare aldrig sådan helt på toppen, når du går rundt med en kronisk infektion. Det er ikke kun irriterende, det kan også skabe nyrebækkenbetændelse, hvis bakterierne bevæger sig op i nyrerne, og så har du pludselig en helt anderledes akut tilstand, der ikke kun klares med sulfa, men hvor skrappere antibiotika er nødvendige.
Sundhed tilbage til blæren
Med vand får du skyllet blæren grundigt igennem, så bakterierne har sværere ved at holde skansen og formere sig på slimhinden. Og med tranebærekstrakt hindrer du bakterierne i at klæbe sig fast på den sarte slimhinde, der kan blive angrebet i så voldsom grad, at der opstår mindre blødninger.
Det er dog ikke lige meget, hvilken tranebærekstrakt du vælger. For de mange safter, der findes på "helsehylden", er smækfyldt med sukker for at tage den lidt sure smag fra tranebærret. Og bakterier lever af sukker!
Vælg i stedet en ekstraktion. Ved at lade tranebærret gennemgå en vand-og alkoholekstraktion for derefter at fjerne vand og alkohol igen, får man et super stærkt produkt.
Så stærkt, at to kapsler svarer til 1000 mg tranebærekstrakt, svarende til 25 gram (!) friske tranebær.
Har du akut blærebetændelse, så øg dosis til seks kapsler om dagen.
Vand og endnu mere vand…
Samtidig skal du sørge for rigelig med væske. Er du sådan af normal størrelse og ikke dyrker motion eller ligger midt i solen, er to liter en passende mængde. Men afhængigt af hvor meget vand du sveder ud gennem huden, skal du måske op på 2,5 til 3 liter om dagen!
Du ved sikkert, at du skal sørge for en god hygiejne ved at tørre dig forfra og bagud, så du undgår colibakterier i blæren. Du ved sikkert også at kulde fra våde bikinier og badedragter kun gør ondt værre…
Pas på din blære i sommervarmen – og resten af året!
Tranemax
To kapsler indeholder 1000 mg tranebærekstrakt, svarende til 25 gram (25.000 mg) friske tranebær. Seks kapsler indeholder 3000 mg tranebærekstrakt, svarende til 75 gram (75.000 mg) friske tranebær.
Preparing document for printing…