Det vidste du ikke om UV-filtre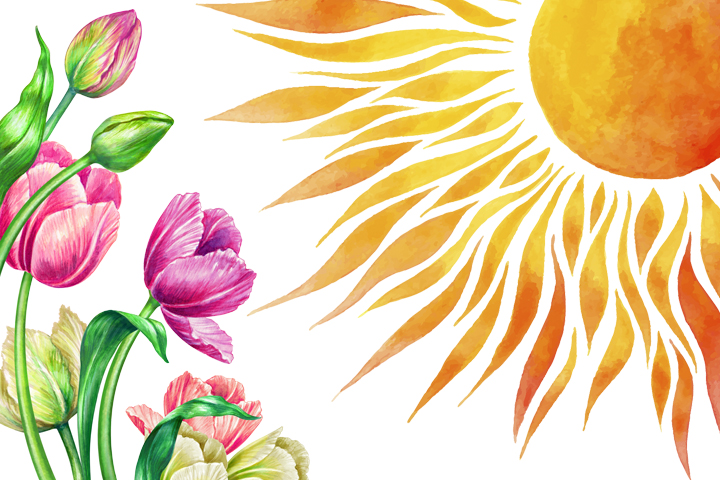 Af Rose Maimonide, rosemaimonide.com
Artiklen blev bragt i magasinet sund-forskning – april/maj 2017
Det er blevet april og tid til at smøre sit barn ind i solcreme hver dag. Eller er det? Bliv klogere på UV-filtre og hvorfor de kan måles i danske børn – også om vinteren!
Hvad er UV-filtre? Du tænker nok, at UV-filtre er noget med solcreme. Men faktisk bliver vi eksponeret for UV-filtre mange andre steder fra. Så meget, at det kan måles i danske børnehavebørn året rundt.
UV-filtre er en gruppe af kemiske stoffer, som beskytter mod UV-lys. De er først og fremmest kendt fra solcremer. De bruges også ofte i badetøj og makeup. UV-filtre kan desuden beskytte farve mod at falme i solen og beskytte plastik mod at blive nedbrudt af solen. Derfor findes i hyppigt i tøj, møbler, vaskepulver, legetøj, trykfarver til mademballage, maling m.m. Vi udsættes dog mest for UV-filtre via huden , hvorfra det optages i blodbanen.
Kan UV-filtre lave koks i hormonerne?
Vi ved ikke så meget om, hvordan UV-filtre optages og påvirker kroppen. UV-filtre er et relativt nyt forskningsområde inden for hormonforstyrrende stoffer. En del forsøg viser, at seks forskellige UV-filtre har vist hormonforstyrrende effekter. Især stofskifte, reproduktion og sædkvalitet har været påvirket i dyreforsøg. Man har også påvist, at UV-filtre kan have negativ effekt på sædkvaliteten hos mænd.
I et nyt dansk forsøg i 2016 målte man UV-filtre på børnehavebørn. De er den danske befolkningsgruppe, som nok er mest eksponerede for UV-filtre. Det skyldes, at den officielle anbefaling er, at børnehavebørn smøres med solcreme to gange dagligt fra april til september.
Man målte ni forskellige UV-filtre hos børnene både om sommeren og vinteren.
Der var selvfølgelig betydelig højere indhold af UV-filtre i børnene om sommeren end om vinteren pga. brugen af sol-creme om sommeren.
Men børnene udskilte også UV-filtre om vinteren! Nogle børn var faktisk eksponeret i næsten lige høj grad om somme-ren som om vinteren. Der er også stor forskel på, hvilke UV-filtre børnene udsættes for. I nogle af børnene målte man UV-filtre, som er forbudt i solcremer og andre plejeprodukter.
Livsstil og miljø for det enkelte barn spiller således en betydelig rolle for den samlede eksponering for UV-filtre. Og børnene udsættes for UV-filtre fra mange kilder, ikke kun fra solcreme. 
Er det bekymrende?
Vi ved ikke, om det er sundhedsskadelige, at børnene udsættes for UV-filtre i de målte mængder. For der mangler viden om, hvordan UV-filtre omsættes i kroppen. Man skal også huske på, at vi udsættes for en lang række hormonforstyr-rende stoffer hver dag. Vi ved ikke, hvordan disse stoffer påvirker hinandens effekt, også selv om de forekommer i ganske små doser.
Hvad gør man så?
Løsningen er ikke at forsage solcreme for enhver pris! For der er stor risiko for, at prisen kan blive hudkræft senere i livet.
Løsningen er derimod at beskytte sig i solen ved at bruge sund fornuft og disse gode råd:
Brug solbeskyttelse tilpasset omstændigheder og behov.
Sørg for at få nok vitaminer og mineraler, især D-vitamin, samt sunde fedtstoffer.
Væn langsomt huden til solen i løbet af foråret og forsommeren. 
Følg disse råd i stærk sol:
Hold dig så vidt muligt i skyggen, især i den stærke middagssol (cirka kl. 12-15).
Brug hat med nakkeskygge.
Hav tyndt hvidt tøj på.
Brug badedragt med UV-beskyttelse via stoffets vævning.
Anvend solcreme med lavest muligt indhold af problemkemi. En faktor 30 solcreme med svane- og allergimærket er ofte et godt valg.
 
Pointen er også, at man med fordel kunne nedsætte mængden af UV-filtre i alle mulige andre produkter end solcremer.
Rose Maimonide hjælper børnefamilier med at have nemt ved at leve sundt og grønt i en travl hverdag. Få gratis e-bog på
rosemaimonide.com.
Preparing document for printing…