Sund mad på SU – og andre små budgetter – december 2016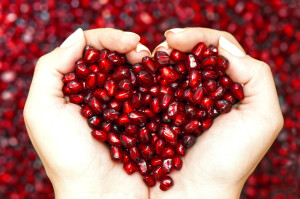 Sund mad på SU er for dig, der gerne vil leve sundt, men ikke gider at bruge timevis i køkkenet. Og dig, der godt kan se pointen med økologi, men går en stor bue uden om det røde Ø-mærke, fordi (du tror) pengene ikke rækker.
Jeg elsker de krydderier, der hører julens bagværk til. Desværre får krydderierne ofte følgeskab af rigelige mængder sukker og hvede, som sender mit blodsukker på kollisionskurs. Måske har du det lige sådan? I hvert fald får du i denne måned en opskrift på sunde(re) julekager med masser af næring, nydelse og velsmag.
Juletraditionen tro, her på mine sider, får du også en opskrift på en grøn og frisk ledsager til julemaden. Denne gang en granatæblesalat.
Af Nanna Stiegel, ernæringsterapeut (DET)
Opskrifterne blev bragt i //mig// en del af magasinet sund-forskning – december 2016/januar 2017 
X-mas cookies
Du skal ganske vist ud og spendere lidt i nødder og dadler for at kunne lave disse krydrede himmerigs mundfulde. Til gengæld er pengene godt investeret i nærende og mættende ingredienser – og måske vil du opdage, at du derved har nydelse til flere dage.
Det skal du bruge:
150 g dadler
80 g valnødder eller hasselnødder
150 g solsikkekerner
Saft og reven skal af 1 økoappelsin
1 tsk. salt
1 tsk. bagepulver
2 tsk. kanel
1 tsk. nellikepulver
1 tsk. kardemomme
Lidt frisk kværnet peber
Evt. 1 tsk. vaniljepulver (hvis du har)
2 æg
Sådan gør du:
Kværn nødder og solsikkekerner i en blender eller foodprocesser. Kom dadlerne i, og kør videre. Tilsæt så alle kryd-derier, og kør igen. Kom nu de to æg i, og blend dejen en sidste gang. Dejen er lidt fedtet, så håndter den med en spise-ske, og lav små flade kager ud af dem, som du placerer på en bageplade (med bagepapir på). Bag i ovnen på varmluft ved 175 grader i cirka 20 min.
LUKSUSFIF:
Hvis pengene er til det, kan du med fordel udskifte solsikkekernerne med cashewnødder.
SUNDHEDSFIF:
Det er en god idé at gå efter ægte kanel, frem for den billigere variant kassiakanel. Kassiakanel indeholder høje niveauer af stoffet kumarin, der i store doser kan være levertoksisk.
Granatæblesalat til decembermad
Julemad er dejligt! Men det kalder på friskt tilbehør, synes jeg. Her er et bud på en med masser af friskhed og farve.
Det skal du bruge:
Kernerne fra et halvt granatæble
150 g rucola
1 avokado
100 g haricot verts bønner
50 g mandler
Dressing af:
2 spsk. appelsinsaft
2 spsk. olivenolie
½ tsk. salt
Peber
Sådan gør du:
Blancher de grønne bønner i let saltet vand, og lad dem køle af, mens du gør de andre ingredienser klar. Rist mand-lerne på en pande, så de bliver let gyldne. Undgå at branke. Skyl rucola. Tag kernerne ud af granatæblet. Skær avoka-doen i mindre og mundrette stykker. Og bland dressingen. Kom nu alle ingredienserne i en salatskål. Hæld først dres-singen over lige inden serveringen.
LUKSUSFIF:
Hvis pengene er til det, kan du supplere salaten med en håndfuld friske blåbær for endnu mere kulør og smag.
Julekrydderier med sundhedsbonus
Det er måske ikke helt tilfældigt, at krydderier som kardemomme, kanel og nellike hører blandt julens favoritkrydderier. Ikke alene har de en dejlig varmende effekt i en kold tid. Krydderierne har også andre gavnlige effecter. Ud over at have styrkende effekt på immunforsvaret såvel som leveren ser kardemomme fx ud til at fremme fordøjelsen og modvirke oppustet mave. Ikke tosset i en juletid. Kanel stimulerer bl.a. insulinfølsomheden i cellen, og det er guld værd for et udfordret blodsukker. Mens nelliker virker bakteriedræbende.