Forårsforkølelse og andre irriterende tilstande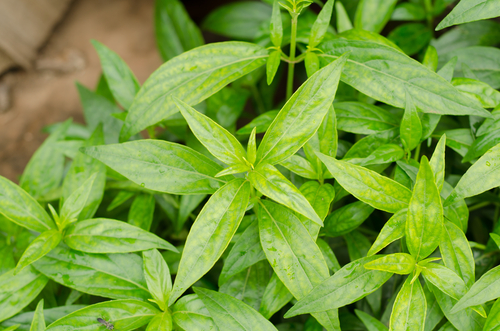 Der er rigtig mange urter at vælge imellem, når man vender blikket mod Asien. Store befolkningsgrupper over store afstande med få læger har tvunget lokalbefolkningen til at finde droger med medicinsk virkning. En af dem er Andrographis paniculata, som kommer fra Indien, men i dag er en velkendt plante over hele Asien og her I Europa.
Af Marianne Palm
Artiklen blev bragt i magasinet sund-forskning og //mig// – april/maj 2016
Her har man gået og glædet sig til de første solstråler efter en lang vinter. Man hopper ud i solen, glemmer uldundertrøjen – og vupti, en forårsforkølelse sætter sig fast. For nogle bliver det til en bihulebetændelse, for andre en kronisk bronkitis. Eller flere uger med træthed, hvor man hellere ville springe rundt som en vårhare på grønne sletter. I Indien gror Andrographis netop på sletterne, som en af landets vigtigste urter til immunforsvaret, og den er kendt for både at kunne støtte ved akutte tilstande, og når det hele er blevet meget mere kronisk.
King of Bitters
Den indiske plante hedder på engelsk King of Bitters. Drikker man te af planten, er man ikke I tvivl, det er en bitter sag. Bitterstoffer fremmer mavesyren og sender besked til både lever og galde om at gøre sit arbejde korrekt. Derfor har den så god en virkning på fordøjelsen, hvor den bl.a. kan beskytte leveren mod toksiner, men er også en værdifuld støtteterapi mod akutte og kroniske infektioner.
Kigger man i de mest brugte urtemonografier over de problemstillinger, den indiske sletteplante kan anvendes til, er der gentagne gange nævnt, at de overjordiske dele kan anvendes til akutte infektioner, fx forkølelse, influenza, hoste, bronkitis og forebyggelsen af disse sygdomme.
Kroniske sygdomme, som fx bihulebetændelse, betændelse i mandlerne og kronisk bronkitis, er også et sted, hvor Andrographis paniculata hører til i husapoteket.
Fordøjelsesproblemer, og især hvor leveren er involveret, er også en af hovedindikationerne for Andrographis paniculata. Det er jo ikke sygdomme, vi skal forsøge at klare selv uden hjælp fra læger eller andre behandlere, men den er værd at kigge på, hvis leverens evne til at udlede toksiner og affaldsstoffer har brug for hjælp.
Aktive indholdsstoffer
Bitre diterpener, laktoner (andrographolider), diterpene glykosider, diterpene dimerer, flavonoider.

Andrographis paniculata stimulerer fagocytose og både antigen specifikke og ikke-specifikke immunreaktioner.

Andrographis paniculata kan købes i kapsler fra Pukka.