Alle infektioner dræner kroppen for C-vitamin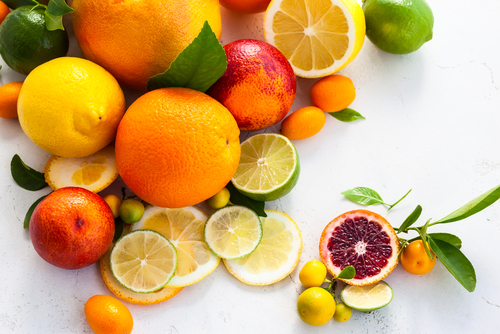 Vi mennesker er afhængige af at få tilført C-vitamin, eftersom vi i modsætning til de fleste dyrearter ikke selv er i stand til at danne vitaminet i kroppen.
Af Bjørn Falck Madsen
Artiklen blev bragt i magasinet sund-forskning og //mig// i december 2015.
Det er vigtigt at have nok C-vitamin i organismen, ikke bare fordi det blandt mange andre ting støtter immunforsvaret og desuden hjælper kroppen med at danne bindevæv (kollagen), men også fordi det efter alt at dømme spiller en afgørende rolle for udviklingen af vores intelligens i fosterstadiet. Det har Jens Lykkesfeldt, som er professor ved Københavns Universitet, forsket en del i og skrevet artikler om. Hans forskningsresultater har ligefrem ført til, at man i USA anbefaler et 30 % forhøjet indtag af C-vitamin til gravide og rygere (rygning dræner kroppens C-vitaminbeholdning).
Virker ved forkølelser
Kroppen har endvidere et stort forbrug af C-vitamin i forbindelse med infektioner. En infektion kan være mange ting lige fra en urinvejsinfektion til en betændt finger eller infektion i luftvejene. Forkølelse er også en infektion, og forskning viser faktisk (i modsætning til hvad man læser i medierne), at C-vitamin har en forebyggende og lindrende virkning ved forkølelse. For eksempel påviste forskere i en undersøgelse, der er offentliggjort itidsskriftet Nutrients i 2014, at blandt de forsøgspersoner, der fik dagligt tilskud af C-vitamin, var der omtrent halvt så mange forkølelser. Samtidig viste forsøget, at varigheden af forkølelserne i C-vitamingruppen blev reduceret med næsten 60 % sammenlignet med den anden gruppe.
Hæmmer inflammationsmarkører
Ved infektion går kroppens immunforsvar til modangreb, og der opstår inflammation. Det kan blandt andet ses ved, at tallet for forskellige inflammationsmarkører stiger, hvilket blandt andet gælder for CRP (C-reaktivt protein) og IL-6 (interleukin-6). En relativtny undersøgelse, hvor 64 overvægtige personer fik tilskud af C-vitamin dagligt i otte uger, viste, hvordan behandlingen reducerede CRP med 52 procent og IL-6 med 36 procent. Undersøgelsen er offentliggjort i det videnskabelige tidsskrift Drug Design, Development and Therapy (september).
Dagligt tilskud
Gode kilder til C-vitamin er hyben, peberfrugt, chili, citrusfrugter og anden frugt samt kartofler. Det kan dog være svært at vide, hvor meget man får fra hver enkelt fødevaregruppe. For at være på den sikre side kan man ud over en balanceret kost, der indeholder sådanne fødevarer, tage et dagligt tilskud af C-vitamin.
Syreneutral C-vitamin
C-vitamin kan ikke overdoseres, da det bliver udskilt i urinen i stedet for at lagres i kroppen. For dem, der har sarte maver eller maveslimhinder, kan en god løsning være et præparat som Bio-C-Vitamin, der indeholder calciumascorbat. Denne syreneutrale form for C-vitamin er skånsom mod fordøjelsen og giver derfor ingen gener.