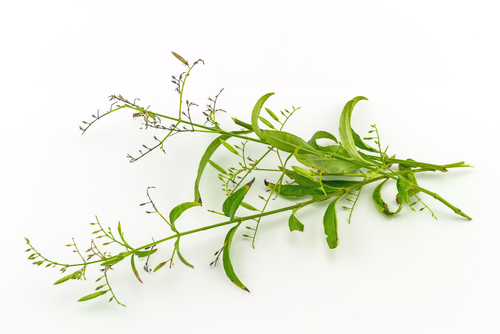 Røde nisser og røde næser. Årstidens faste indslag som jul (jubi) og forkølelser (øv) banker på døren. Men med hensyn til forkølelsen kan du som en ægte kravlenisse hurtigt kravle ud af sengen igen med ekstrakt af Andrographis paniculata herba og ekstrakt af russisk rod.
Af Kristine Bindslev
Artiklen blev bragt i magasinet sund-forskning og //mig// – december 2015/januar 2016

Har du ondt i halsen, tilstoppet næse, løbende næse, hæshed, hoste, hovedpine – og føler du almen utilpashed. Øv, så har du nok pådraget dig en omgang forkølelse. Ingen bryder sig om at blive sendt under dynen med en pakke Kleenex i nærheden. Men det sker ca. to til fire gange hvert år, og dit barn kan komme helt op på otte af slagsen. En normal forkølelse varer i syv dage. Men hvad hvis nu julen kommer tidligt i år, og du kan ønske dig at forkorte dagene på langs? Mange studier viser, at ekstrakt af Andrographis paniculata herba og ekstrakt af russisk rod kan medvirke til at reducere og afkorte varigheden af en forkølelse eller influenza.
Kan Yang kan forkorte forkølelsen
I et placebokontrolleret, dobbeltblindet forsøg testede forskere den terapeutiske virkning af Kan Jang tabletter, der netop er fremstillet fra Andrographis paniculata og russisk rod. 240 forsøgspersoner blev rekrutteret. 179 patienter gennemførte. Det drejede sig om mænd og kvinder i alderen 18 til 65 år, der udviste de første tegn og symptomer på en ukompliceret øvre luftvejsinfektion også kaldet forkølelse.
Design af forsøget
Patienterne blev delt i to grupper, hvor gruppe 1 fik 1200 mg Andrographis paniculata svarende til to kapsler Kan Jang tre gange om dagen i fem dage, mens gruppe 2 fik placebo. Efter tre til fire dage evaluerede man virkningerne. Det forskerne målte på var følgende: antal dage hjemme, reduktion af syv forskellige symptomer som ondt i halsen, tilstoppet næse, løbende næse, hoste, nysen, hovedpine, muskelsmerter og kuldskærhed. Symptomerne blev evalueret i skemaer af deltagerne selv.Derudover tog man blodprøver, hvor man bl.a. målte på immunforsvarsceller.
Uden tvivl pegede både kliniske fund og subjektive oplevelser på, at Kan Jang gruppen forkortede mængden af sygedage samt mængden af forkølelsessymptomer. På tredjedagen var 59 af 95 patienter, der fik Kan Yang, fuldstændig raske eller oplevede en væsentlig forbedring sammenlignet med 37 af 85 patienter i placebogruppen.