Fordriv appelsinhuden med naturlige ingredienser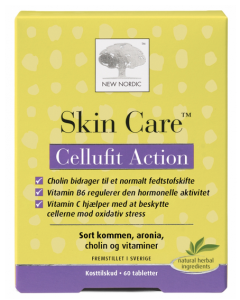 Pressemeddelse, New Nordic, maj 2015
Smilehuller på lår og bagdel er ganske charmerende, men to baller, der ligner appelsiner – det kan måske blive for meget af det gode. Kan du ikke komme de små uregelmæssigheder til livs ved hjælp af bevægelse, tørbørstning og masser af vand, er der heldigvis gode råd forude. New Nordic har udviklet kosttilskudstabletten Cellufit Action, som arbejder i de inderste hudlag og bekæmper dannelsen af appelsinhud og hjælper din krop til at forbrænde fedtet naturligt.
Ny forskning: Immunforsvaret angriber gamle fedtceller
Den nyeste forskning i appelsinhud viser, at når fedtcellerne har fået lov at være i kroppen i lang tid, begynder vores eget immunforsvar at angribe fedtcellerne, og danner en hård skal omkring fedtcellen. Samtidig opstår der en væskedannelse mellem fedtcellerne. Det gør stedet, hvor vi har appelsinhud, ømt og for nogle endda smertefuldt.
Stop betændelsen og forbrænd fedtet
Med Cellufit Action angribes problemet fra 3 vinkler. Tabletten indeholder aronia og sort kommen. Aronia og sort kommen begrænser betændelsestilstanden imellem cellerne. Tabletten Cellufit tilfører også din krop det vigtige næringsstof cholin, der omsætter fedtceller til energi, så vi forbrænder fedtet nemmere. Cholin hjælper os også med at bevare et normalt stofskifte. Vores krops fedtvæv dannes i stor udstrækning i hudens inderste lag, hvor opstrammende cremer ikke når ned, derfor skal vi arbejde indefra for at komme tilstanden til livs.
Giv bindevævet en hjælpende hånd
Vi har alle fedtceller forskellige steder på kroppen – det er naturligt, og det skal vi have. For os kvinder sker der typisk det, at vores krop begynder at holde på fedtet på vores maver og lår for at give os noget at tære på til, når vi skal have børn. Når vi er unge, og vores hud er spændstig, holder huden vores fedtceller på plads. Når vi bliver ældre, og når vi tager på, så bliver bindevævet slapt, og vores hud har ikke længere den samme, stramme overflade som holder cellerne fint på plads.
Samtidig med, at du tager tabletterne, så fortsæt med at tørbørste og motionere, så du sikrer en god blodcirkulation til at få de døde fedtceller og affaldsstoffer ud af kroppen. Drik også rigelig med vand og spis grøntsager, så du angriber appelsinhuden fra alle vinkler.