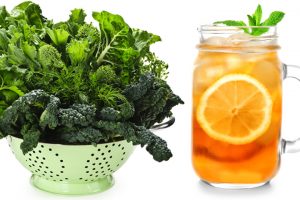 Mynte er sød og meget aromatisk, og den findes i så mange skønne varianter, at det kan være svært at finde frem til sin særlige favorit. I butikkerne møder du oftest marokkansk mynte, schweizisk mynte og den spearmint-smagende pebermynte. Mynte har en kølende effekt og passer derfor fint til sommermad og –drikke.
Af Lisbeth.tordendahl, biopat, phytoterapeut og kostkonsulent
Opskrifterne blev bragt i magasinet sund-forskning.dk – sommer 2013
De friske blade er herlige til sommerens desserter og forskellige salater.
Hakkede mynteblade smager skønt til jordbær(-is) og frugtsalater med melon.
Kom et par kviste ned i kanden til drikkevandet.
Lav læskende myntete af stilke og blade, der overhældes med kogende vand og gerne en citronskive.
Sprød salat med spidskål og mynte
Det skal du bruge:
½ spidskål 
Godt salt
Gulerødder
Romaine – eller hjertesalat
Frisk mynte (marrokansk)
Citronsaft
Ekstra jomfruolivenolie
Mandelolie (kan erstattes af olivenolie)
Ristede solsikkekerner
Sådan gør du:
Skær den grove stok fra spidskål, og snit resten så tyndt som muligt. Kom det i en skål, og bland det grundigt med ½ tsk. salt. Stamp kålen (fx med en støder til en morter) eller kram det godt mellem hænderne, så kålen blødgøres. Skær gulerødder i tynde tændstikker og bland i.
Tag den mængde af kål-gulerodsblandingen, som du skal bruge, og bland det med snittet salat og finthakket mynte. Dryp citronsaft over og lige dele oliven- og mandelolie. Bland. Vend ristede solsikkekerner i.
Denne blanding af krammet kål og gulerod kan du have stående i en boks i køleskabet i 4-5 dage og bruge i forskellige salatkombinationer.
Opskriften er fra guiden Organisér Dig Sund, som du finder på www.lisbethtordendahlwebshop.dk
Nye gulerødder med mynte
Det skal du bruge:
Nye gulerødder
Ekstra jomfruolivenolie eller smør
Godt salt
Appelsinsaft
Frisk mynte
Sådan gør du:
Er gulerødderne små, bruges de hele, ellers halveres de en enkelt gang. Varm lidt olie eller smør på en pande. Kom gulerødderne ved, og sau-tér dem ca. 4 minutter. Drys lidt salt over, og dryp en smule appelsinsaft ved. Vend rundt endnu 1-1½ minut. Gulerødderne skal stadig have bid. Vend grofthakket mynte I.
Sundhed med pebermynte
Pebermynte er blevet brugt som lægeplante i tusindvis af år, og i dag forskes der særligt i pebermyntens indhold af æteriske olier, bl.a. mentol. Pebermynte er et godkendt naturlægemiddel til:
 udvortes brug mod ømme muskler og lette muskelsmerter
 som inhalation, der kan lindre forkølelsesgener
 som middel ved fordøjelsesbesvær og luftophobning i mave- og tarmsystem.