Hvad sker der, når du vælger at tage ekstra collagenpeptider ?
Collagen er det største proteinvæv i kroppen, og det slides med alderen, med stressbetingede livsstilskompensationer og brug af adskillige slags medicin.
Af Eva Lydeking
Collagenpeptiderne har en unik struktur, der består af collagenspecifikke Prolin-Hydroxyprolin-Glycin aminosyre-gentagelser. De har en form, så de kan komme igennem fra tarmen til blodet og videre til de specifikke væv, hvor der er brug for støtte, styrke og opbygning.
De to bredspektrede collagenprodukter er målrettet væv med følgende sammensætning:
Multi Collagen dækker bindevævsopbygningen i hud, hår, negle, led, knogler.
Multi Collagen Sport er målrettet led, ledbånd og sener, dvs. meget velegnet ved belastninger eller restitution af skader i disse væv.
Hjælper desuden til at optimere kropssammensætning gennem effekt på større mæthed, bedre fedtforbrænding og effektiv muskelopbygning.
Mange forhold gennem livet har betydning for bindevævets styrke og kvalitet, herunder arvelighed, alder, livsstil (tobak og alkohol er værst), generel inflammation pga. skæv kost og immunologisk aktivering efter infektioner og skader. Særligt brug af smertestillende medicin af både steroid (binyrebarkhormoner) og non-steroid (andre "gigtmidler", som Ibuprofen o. lign.) og fast brug af paracetamol skal nævnes, idet disse godt nok er smertestillende og antiinflammatoriske på den korte bane, men langsigtet hæmmer normal bindevævsrestitution og tilmed kan svække sener og ledbånd.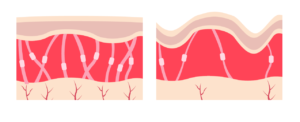 Det første billede viser ung hud med meget collagen. Det andet billede viser, at ældre hud indeholder mindre collagen.
Aminosyrernes rolle i forhold til immunsystemet
Prolin
25 pct. af aminosyrerne i collagenpeptiderne er prolin, som stabiliserer strukturen, så de ikke let nedbrydes i fordøjelsen. Ud over effekten af prolin i bindevævet har denne aminosyre en mindre kendt rolle i immunsystemet, idet prolin er forstadie til dannelsen af P5C (pyrrolin-5-carboxylat), og denne proces regulerer blandt andet nogle af de hvide blodlegemers vækst og funktion, så de overlever bedre og fremmer dannelsen af antistoffer i relation til infektion. Prolin er helt nødvendig for heling af alle slags vævsskader og ligeledes forstadie til dannelse af H2O2 (brintoverilte), som immunsystemets celler bruger dels som kommunikationsstof og dels til at nedkæmpe uønskede bakterier og inficerede celler.
Glycin
Glycin er en aminosyre, som indgår med ca. 20 pct. i collagen. Ud over betydningen for collagendannelsen er glycin direkte byggesten i afgiftningsmolekylet glutathion og hæmmolekylet, der transporterer ilten rundt i kroppen.
Glycin er en direkte antioxidant, som beskytter de hvide blodlegemers funktion og effektivitet ved infektion. I dyreforsøg er glycin afbalancerende selv ved livstruende immunaktivering på grund af antiinflammatoriske, vævsbekyttende egenskaber i mange forskellige væv. Glycin hjælper søvnkvalitet, stresshåndtering og hjernefunktion samt dæmper centrale processer under alvorlige infektioner og skader.
Referencer
Chad C. Carroll: Analgesic Drugs Alter Connective Tissue Remodeling and Mechanical Properties. Exerc Sport Sci Rev. 2016 January ; 44(1): 29–36. doi:10.1249/JES.0000000000000067.
Peng Li, Yu-Long Yin, Defa Li, Sung Woo Kim and Guoyao Wu: Amino acids and immune function. British Journal of Nutrition (2007), 98, 237–252 doi: 10.1017/S000711450769936X
Meerza Abdul Razak, Pathan Shajahan Begum, Buddolla Viswanath, and Senthilkumar Rajagopal
Multifarious Beneficial Effect of Nonessential Amino Acid, Glycine: A Review Oxid Med Cell Longev. 2017; 2017: 1716701. doi: 10.1155/2017/1716701