Nyt kvalitetsmærke garanterer kvaliteten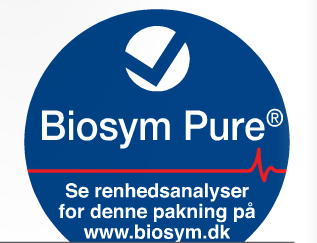 Artiklen blev bragt i magasinet sund-forskning i april 2013
Af Rikke Agersted, Biopat og Phytoterapeut
Biosym lancerer et nyt kvalitetsmærke, som giver forbrugeren adgang til alle kvalitets- og renhedsanalyser på det specifikke fedtsyreprodukt, vedkommende har i hånden.
Total åbenhed
Biosym har besluttet at synliggøre kvaliteten af deres fedtsyreprodukter endnu mere for forbrugerne og lancerer derfor konceptet Biosym Pure i foråret 2013. Alle fedtsyreprodukter vil fremover have et Biosym Pure mærke på pakningerne, hvoraf produktets batchnummer fremgår. På Biosyms hjemmeside klikker man sig ind på menupunktet "Renhedsanalyser for fedtsyrer" og indtaster batchnummeret på det EPA-GLA+ eller OmniKrill produkt, man har købt. Man bliver ført til en side med analyseresultaterne for produktet, og kan dermed se både peroxidværdien, anisidinværdien og totoxværdien.
Værdiernes betydning
Peroxidværdien er oliens primære harskningstal og fortæller noget om oliens kvalitet på fremstillingsproduktet. Anisidinværdien er oliens sekundære harskningstal og siger noget om oliens holdbarhed efter at have forladt fabrikken. Totoxværdien er et udtryk for oliens samlede harskhed. Man tager peroxidtallet, ganger med to og lægger anisidintallet til for at finde frem til totoxværdien. Biosyms produkter har meget lave totoxtal, og de ligger markant under de grænser, som flere internationale organisationer har sat som acceptable for fedtsyrers harskhed.
Biosyms fedtsyreprodukter EPA-GLA+ indeholder fiskeolie samt koldpresset lægehjulkrone og flydende lecitin. Samlet set giver det en god balance af de gavnlige fedstyrer fra omega-3-6-7-9.OmniKrill indeholder krillolie fra antarktiske krill, som indeholder omega-3-fedtsyrer i form af EPA og DHA samt Astaxanthin, der er en naturlig, kraftig antioxidant.