Pas på dit hjerte – især til jul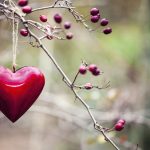 Julen er hjerternes tid. Men det er så sandelig også en tid, der kan være hård ved hjertet, da mange er udsat for stress, drikker for meget og spiser fed mad, som belaster kredsløbet. Vidste du, at du kan styrke dit hjerte med et stof, som får det til at danne mere energi?
Af Bjørn Falck Madsen
Artiklen blev bragt i magasinet sund-forskning og //mig// – december 2016/januar 2017
Hvis du har et svagt hjerte, lider af forhøjet blodtryk, har for højt kolesteroltal og er overvægtig, kan julen være en hård belastning for både dit hjerte og dit kredsløb med både stress, alkohol og fed mad. Men vidste du, at du kan styrke dit hjerte på naturlig måde ved at danne mere energi?
Som du måske allerede ved, er dit hjerte den mest energikrævende kropsdel. Hjertemusklen bruger enorme kræfter på at trække sig rytmisk sammen for at sende blodet rundt i hele kroppen. For at kunne lave energi behøver cellerne et stof, som hedder coenzym Q10. Dette stof, som minder om et vitamin, kan vi mennesker selv danne. Vores egenproduktion daler dog med alderen, så jo ældre du er, desto mindre coenzym Q10 har du i dine celler. Du får også en smule af stoffet fra den føde, du indtager, men det du kan gøre, er at tage et tilskud af coenzym Q10 i kapsler.
Reddet fra døden
Nytter det? I høj grad. Det er ikke mere end et par år siden, at en stor undersøgelse udført på 420 patienter med kronisk hjertesvigt viste, hvordan man ved at give dem kapsler med coenzym Q10 (Bio-Quinone Q10) som supplement til deres konventionelle hjertemedicin opnåede en markant forbedring af deres symptomer. Forskerne var forbløffede, da de observerede, at der blandt de Q10-behandlede patienter var 43 % færre, som døde af deres hjertesygdom, end der var blandt dem, der havde fået snydekapsler med et uvirksomt stof. Denne undersøgelse, som hedder Q-Symbio, blev offentliggjort i det førende amerikanske tidsskrift Journal of the American College of Cardiology (JACC) og har fået stor omtale i medier over hele verden.
Styrker ældre personer
Coenzym Q10 arbejder ikke alene. For at kunne yde sit bedste er det afhængigt af et andet stof, nemlig mineralet selen. Det demonstrerede svenske forskere i en undersøgelse, som kom frem for tre år siden. Man havde tilfældigt udvalgt 443 raske, ældre svenske mænd og kvinder, som enten fik en kombination af Bio-Quinone Q10 og selenpræparatet SelenoPrecise eller snydepiller. De deltagere, som havde fået de virksomme præparater, havde en 54 % reduceret hjerte-kar-dødelighed, og deres hjertemuskelfunktion var forbedret markant. Denne undersøgelse, som kaldes for KiSel-10, blev offentliggjort i International Journal of Cardiology i 2013.
Fremtidens "hjertemedicin"?
Ligesom coenzym Q10 er selen et stof, som kroppen behøver for at kunne fungere normalt. Vi får selen fra føden, men Danmark er et område, hvor selenindholdet i landbrugsjorden er lavt, så afgrøderne indeholder ikke særlig meget af dette vigtige stof. Tilsyneladende får svenskerne heller ikke så meget selen. Forskerne observerede, at selenindholdet i blodet hos de ældre mænd især var en del lavere end den mængde, videnskaben anser som optimal med hensyn til beskyttelse af kroppen. Det store spørgsmål er så, om tilskud af coenzym Q10 og selen kan blive en del af den fremtidige forebyggelse og behandling af hjertesygdom? Mange forskere er positive, især efter at have set udfaldet af de to undersøgelser, men der skal flere og større undersøgelser til, før man kan drage endelige konklusioner.