Sund mad på SU – og andre små budgetter – august 2016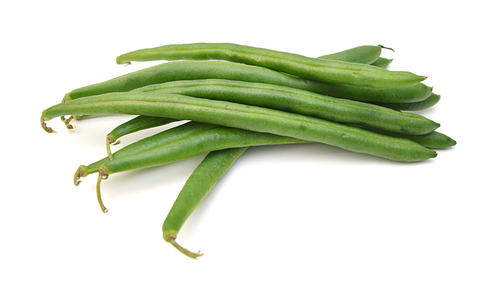 Sund mad på SU er for dig, der gerne vil leve sundt, men ikke gide r at bruge timevis i køkkenet. Og dig, der godt kan se pointen med økologi, men går en stor bue uden om det røde Ø-mærke, fordi (du tror), pengene ikke rækker.
Sensommer er dansk højsæson for de grønne bønner med det fine franske navn haricots verts. I hvert fald, hvis du vil have dem friske. De er nu heller ikke tossede (eller dyre) i frossen tilstand (hvis du nu læser dette magasin senere på året). Her får du to ideer til anvendelse af de grønne bønner.
Nanna Stigel, ernæringsterapeut (DET)
Artiklen blev bragt i  magasinet sund-forskning og //mig// – august/september 2016
Haricots verts á l´ estragon
Simpel, men smagfuld kombination af grønne bønner og estragon. Hvis du ikke kender estragon som krydderurt, genkender du måske smagen fra bearnaisesauce, hvor estragon også bruges som smagsgiver.
Det skal du bruge:
350 g haricots verts
1 spsk. frisk estragon
½ rødløg
150 g solmodne tomater
Dressing af:
1,5 spsk. koldpresset olivenolie
1 toppet tsk. dijonsennep
1 spsk. balsamico eddike
½ tsk . honning
Salt
Peber
Sådan gør du:
Blancher bønnerne i 2-3 minutter i kogende vand tilsat 1 tsk. salt. Bruger du bønner fra frost, skal de kun lige koge op. Hæld vandet fra, og lad dem dampe af. Snit rødløg fint. Og skær tomaterne i små både eller mundrette stykker. Bland ingredienserne til dressingen: først olie, sennep og balsamicoeddike. Smag så til med honning, salt og peber. Når bønnerne er kølet lidt af, blandes de med løg, tomater og estragon. Til sidst hældes dressingen over.
Morgenstund med bønne i mund
Lyder måske næsten absurd i dine ører. Ikke desto mindre får du hermed en invitation til at starte dagen ud med grove, skønne bønner. Her er de nemlig blendet til en grøn smoothie, og den smager meget bedre, end det lyder. Prøv den. Dine sædvanlige cornflakes vil i bogstaveligste forstand blegne ved siden af.
Det skal du bruge
150 g frosne haricots verts bønner
1 moden banan
½ avokado
1 stor håndfuld friske mynteblade
½ -1 tsk. lakridsrodspulver
Saft af ½ appelsin
1½ -2 dl vand
Sådan gør du:
Kom alle ingredienser i en god blender. Start med ½ tsk. lakridsrodspulver, så kan du altid smage dig til, om du synes, den skal være mere lakridset.
Blend smoothien meget grundigt og så fløjlsblød, som din blender tillader det. Juster konsistens med vand.
TIP: Indrømmet. Det er en fordel med en god blender, når du skal lave smoothies på grøntsager.
Sundhedsbonus i grønne stængler
Grønne bønner hører til de fiberrige grøntsager. Det er godt både for mæthed og fordøjelse. Desuden er grønne bønner en vitamin- og mineralrig sag og byder bl.a. på gode mængder B-vitaminer, ikke mindst folat (B9), samt magnesium, kalium, mangan, C- og K-vitamin.
SU-venlig grønt, uden for sæsonen
Det er helt o.k. at ty til frosne bønner, når vi er uden for sæsonen. Nedfrysning er en skånsom form for opbevaring af grøntsager. Fx bevares en stor del af vitaminerne på frost. Og så er det langt mere økologisk og økonomisk at købe frosne danske bønner end at købe friske grønne bønner, der er fløjet hjem fra fjerne kontinenter.
Prøv en bønnefrit
Et populært alternativ til almindelige pomfritter er fritter lavet af bønner.
De kan tilberedes på forskellig vis. Min foretrukne opskrift er at ovnbage bønnerne og så bagefter blande dem med god
koldpresset olivenolie og salt. Meget, meget enkelt, sundt og velsmagende tilbehør.
Preparing document for printing…