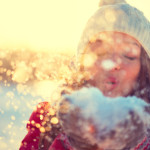 Hvad er en traditionel mavebøjning? Det er øvelsen, hvor du fra rygliggende lukker kroppen lige sammen på forsiden – og derved bruger mavemusklernes kraft til at udføre bevægelsen med.
Af Lotte Paarup
Artiklen blev bragt i magasinet sund-forskning og //mig// i oktober 2015
Igennem årene har der været diskuteret meget frem og tilbage, fx hvorvidt man kunne slanke sig på maven med mavebøjninger. Her vil jeg sætte mavebøjningen i et helt andet fokus, er det mon i virkeligheden spild af tid? Set ud fra et funktionelt synspunkt, er svaret ja.
Naturligt bevægelsesmønster?
Vi skal først se på vores naturlige bevægelsesmønstre, der er programmeret og styret fra vores nervesystem – og som udvikles fra vi er helt bitte små. Det er den såkaldte motoriske udvikling, dvs. modningen af vores nervesystem, der giver sig udslag i bl.a. hjernens funktion og udviklingen af vores bevægelser.
Næste gang du står ud af din seng fra rygliggende position, prøv da at se lidt grundigere på, hvordan du egentlig kommer ud? Du vil ikke være i stand til at komme ud ved udelukkende at udføre en lige mavebøjning. Du vil have brug for at dreje i rygsøjlen også, og derved ligner det mere en skrå mavebøjning.
Babys udvikling
Når en baby udvikler sin evne til at bevæge sig, vil du opdage, at den lille faktisk aldrig ender med at lære at sætte sig direkte op fra rygliggende position. Det er ikke meningen, for vi skal ikke bruge det til noget. Baby lærer at trille, da det er et vigtigt basalt bevægelsesmønster, som hun eller han skal bruge resten af livet – fx for at komme op fra gulvet eller ud af sengen.
Spørgsmålet er derfor: Er en lige mavebøjning i virkeligheden spild af tid?
Åndedræt og kropsholdning
Åndedræt og kropsholdning er langt vigtigere end at udføre mavebøjninger. Et godt åndedræt og en god kropsholdning træner og aktiverer automatisk dine mavemusker 24 timer i døgnet. Du skal lave øvelser, der starter de såkaldte muskelkæder af sig selv. Når kropsholdning og åndedræt fungerer, så tændes mavens muskler automatisk.
Hvad nu?
Afslutningsvis vil vi ikke udelukke, at den traditionelle mavebøjning alligevel kan have sin funktion, men i hvert fald opfordre til at lade den fylde mindre. Laver du traditionelle mavebøjninger, så giver de såkaldte skrå mavebøjninger mere mening, da det er således, du bruger kroppen, når du fx står ud af sengen.
Samtidig findes der andre versioner af øvelser, der også træner maven i en lige bane, men som fortsat har sit formål. Formålet i flere af disse øvelser er fx at smidiggøre hofter, bækken og ryg, hvilket giver vigtig funktionel effekt.
På www.sund-forskning.dk får du mere information og et par videoer med inspiration til mavebøjninger.
Kravl en tur rundt i dit hus hver dag! Som en baby… Og du vil ret sikkert blive mange skavanker kvit – og blive stærkere, end du før har oplevet.