Folk med mere selen i blodet har lavere risiko for slagtilfælde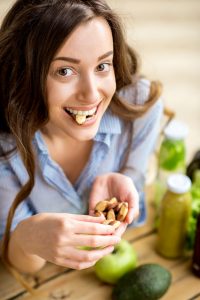 Ny amerikansk-canadisk undersøgelse:
Det har tilsyneladende en beskyttende virkning mod slagtilfælde at have høje mængder af sporstoffet selen i blodet, viser en ny undersøgelse af amerikanere og canadiere.
Af Bjørn Falck Madsen, videnskabsjournalist
Artiklen blev bragt i magasinet sund-forskning – juni/juli 2019
Hvis man vil mindske sin risiko for at få slagtilfælde, kan det efter alt at dømme betale sig at kigge på sit indtag af sporstoffet selen, som blandt andet findes i nødder, fuldkorn, indmad samt fisk og skaldyr. Ifølge en ny undersøgelse, som er offentliggjort i den amerikanske hjerteforenings tidsskrift "Circulation", falder risikoen for slagtilfælde i takt med, at selenindholdet i blodet stiger.
Fulgt igennem en årrække
Undersøgelsen, som er udført på folk fra 20 år og opefter, inkluderer både amerikanere og canadiere. Alle blev fulgt igennem en årrække for at se, hvor mange der fik slagtilfælde. Samtlige forsøgsdeltagere fik målt deres selenindhold, og ved at sammenligne forekomsten af slagtilfælde med selenstatus i blodet og justere for andre faktorer, som spiller ind, kunne forskerne se et tydeligt billede.
Risiko reduceret med 62 procent
Når de kiggede på den canadiske gruppe, fandt de en 62 % lavere risiko for slagtilfælde hos dem med det højeste indhold af selen i blodet sammenlignet med dem, der havde lavest selenstatus. Hos den amerikanske gruppe af forsøgsdeltagere kunne forskerne se, at de personer, som havde mest selen i blodet, havde en 43 % lavere risiko for slagtilfælde i forhold til dem med lavest blodindhold af stoffet.
54 procent lavere dødelighed
Det er langt fra første gang, at selen har vist at have en gavnlig indvirkning på hjerte og kredsløb. Stoffet, der fungerer som antioxidant og har anti-inflammatoriske egenskaber, viste sig i den svenske KiSel-10-undersøgelse fra 2013 at mindske risikoen for at dø af hjerte-kar-sygdom med 54 %. I denne undersøgelse, som er offentliggjort i International Journal of Cardiology, fik ældre svenske mænd og kvinder enten selenpræparatet SelenoPrecise fra Pharma Nord kombineret med et Q10-præparat, der hedder Bio-Qinon Q10, eller tilsvarende snydepiller.
Et meget tydeligt billede
KiSel-10 er dog en interventionsundersøgelse, hvor man giver forsøgspersoner en behandling for at måle dens effekt. Den nye amerikansk-canadiske undersøgelse er derimod en observationsundersøgelse, hvor man blot observerer, om der er en forskel på to eller flere grupper af mennesker, uden de har fået en egentlig behandling. Ikke desto mindre tegner den en tydeligt billede af, at der er en sammenhæng imellem selenidhold i blodet og risiko for slagtilfælde.