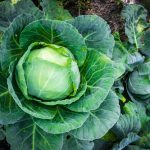 Tiden, hvor kål var synonym med armod og fattigfolks spise, er heldigvis for længst forbi. Men selvom kål i dag er trendy og endda noget af det sundeste, du kan sætte tænderne i, er der stadig mange, som alligevel ikke rigtig får brugt hovederne hjemme i privaten.
Af Lisbeth Tordendahl
Biopat, phytoterapeut og kostkonsulent
Artiklen blev bragt i //mig// – en del af magasinet sund-forskning.dk –  oktober-november 2015 
Og kender du det: Du bruger et kvart eller halvt kålhoved til en opskrift, og så ligger resten i køleskabet… længe …
måske så længe, at du ender med noget rigtig øv: madspild. Fordi din kreativitet er strandet, og du er løbet tør for idéer og opskrifter. Sådan er det for mange af mine klienter, og det var for nogle år siden startskuddet til den tema e-bog
om kål, der netop er udkommet. Udover opskrifter og tips til dejlige retter med broccoli, grønkål, rødkål, spidskål og alle de andre kålhoveder, indeholder den også nyttig viden om, hvorfor kål er så godt, hvorfor rå kål ikke altid er godt og meget andet.
Her får du to af opskrifterne med danskernes foretrukne kål, den milde og sødt smagende blomkål.
BLOMKÅLS TABOULEH
Blomkål ca. 300 g
Bredbladet persille 3 dl tæt pakket
Mynte
Agurk
Tomat
Rødløg
Dressing:
Citronsaft 2 spsk.
Ekstra jomfruolivenolie 2 spsk.
Urtesalt ¼ tsk
Hvidløg 1 lille fed
Sådan gør du:
Findel blomkål, persille og mynte efter smag i en foodproccesor. Har du ikke sådan en, kan du hakke det hele meget fint. Kom det i en skål.
Skær agurk i små tern til i alt 1 dl. Skær tomater i små stykker til i alt 1 dl. Skær en smule rødløg i små tern. Bland dressingen med presset hvidløg. Rør det hele godt sammen. To – tre portioner.
Tip: sådan kan du bruge en rest:
Som del af en grøn salat
Som fyld i savoy-wraps med røget laks
BLOMKÅLSFRIKADELLER
Blomkål 400 g renset vægt
Løg 1 lille
Hvidløg 1 stort fed
Fennikelfrø
¾ tsk *
Kikærtemel 100 g
Urtesalt 1 tsk.
Grov sennep 1 spsk.
Kokosolie (evt. ekstra jomfuolivenolie) til stegning
Sådan gør du:
Riv blomkål og løg groft, gerne i foodproccesor, og kom det i en skål. Hak hvidløget fint, og bland det i blomkålen. Knus fennikelfrø, og rør det i farsen sammen med kikærtemel, urtesalt og sennep. Lad farsen stå 10-15 minutter. Form 16-18 frikadeller med hænderne, og steg dem gyldne på begge sider ved middel varme. Portionen rækker til 16-18 stk.
* fennikelfrø kan erstattes af 1 tsk. tørret timian eller anden krydderurt.
Gode råd:
Jo oftere du spiser kål, des mindre prutter du, og jo bedre du tygger din kål, des mindre prutter du.
Kål er fyldt med vitaminer, fibre og plantestoffer med bl.a. kræft forebyggende egenskaber.
Kål er billig, klimavenlig og smuk mad.
Find e-bogen om kål på lisbethtordendahl.dk.
Preparing document for printing…