Q10 kan hjælpe folk med metabolisk syndrom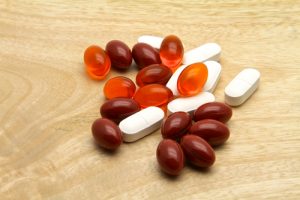 Ny forskning har vist, at folk med metabolisk syndrom – også kaldet syndrom X – kan blive hjulpet af stoffet coenzym Q10.
Af Bjørn Falck Madsen
Artiklen blev bragt i magasinet sund-forskning – april 2017
Flere og flere mennesker i den vestlige verden får type-2 diabetes, men når forinden at lave en "mellemlanding" ved at udvikle en tilstand, der kaldes for metabolisk syndrom – eller syndrom X. er en kombination af bugfedme, forhøjet kolesterol- og triglyceridniveau, forhøjet blodtryk, nedsat insulinfølsomhed og forstyrrelser i blodsukkeret. Hvis man ikke reagerer på dette, kan syndrom X udvikle sig til type-2 diabetes, men nu har iranske forskere offentliggjort en undersøgelse, som viser, at stoffet coenzym Q10 kan hjælpe.

Forbedret insulinfølsomhed
Forskerne, som er tilknyttet Kashan University of Medical Sciences i Iran, inddelte tilfældigt 60 forsøgspersoner (i alderen 40-85 år) i to grupper. En gruppe fik coenzym Q10-tilskud dagligt i otte uger. Den anden gruppe fik snydepiller i samme periode. Det viste sig, at Q10-tilskuddet førte til en række forbedringer, som ikke blev set i kontrolgruppen. For eksempel var der signifikante forbedringer af insulinniveauet, insulinfølsomheden samt beta-cellefunktionen. Det er betacellerne, der producerer insulin i bugspytkirtlen.
Beskytter mod oxidativ stress
Derudover kunne forskerne konstatere, at deltagerne i Q10-gruppen havde langt bedre antioxidantforsvar eller TAC (total antioxidant capacity), hvilket skyldes, at coenzym Q10 fungerer som en kraftig antioxidant. Dette er vigtigt for at beskytte mod oxidativ stress, som man typisk ser hos folk med type-2 diabetes. Den forbedrede antioxidantstatus markerede sig ved øgede koncentrationer af glutathion i blodet og reduceret indhold af malondialdehyd, som er en biomarkør for oxidativ stress.
Hjælper hjertepatienter
Coenzym Q10 er primært kendt for sin dokumenterede effekt på kronisk hjertesvigt. I den banebrydende Q-Symbio-undersøgelse fra 2014 fandt man, at hjertesvigtspatienter, der fik 2 x 100 mg Q10 (Bio-Quinone Q10) dagligt i to år, havde 43 % lavere risiko for at dø af deres sygdom. Vi danner selv stoffet i kroppen, men med alderen aftager denne produktion, og visse sygdomme har ligeledes vist at have en negativ indvirkning på cellernes coenzym-Q10-status.
Kilde: European Journal of Nutrition, december 2016