Rød ris i redningsaktion mod for højt kolesterol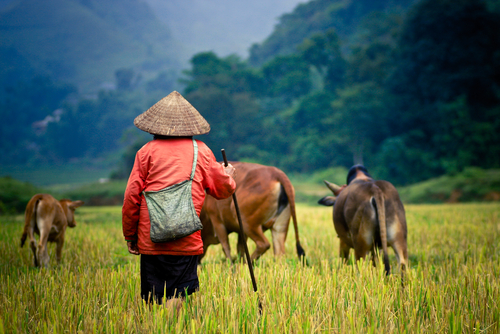 Artiklen er bragt i magasinet sund-forskning – vinter 2014
Af Kristine Bindslev
Hvidløg, soya, omega 3, loppefrøskaller, policosanol kan sænke kolesterolet i blodet. Nu ved vi med sikkerhed, at rød fermenteret ris også har en betydelig effekt i kampen mod for højt kolesterol.
Et dobbeltblindt randomiseret kontrolleret placebostudie, be- kendtgjort i Nutrition Research nr. 33 fra 2013, viser, at fer- menteret rød ris sænker det farlige LDL-kolesterol. En gruppe fik i en kortere periode kapsler med fermenteret rød ris. Test- gruppen oplevede en regulering samt stabilisering af kolesterol- tallet. Undersøgelsen blev udført af en række italienske læger fra Medical and Surgical Sciences Department, University of Bologna, Italien.
Naturlig behandling kontra medicinsk behandling 
Hvad er det i fermenteret rød ris, der har en effekt? Det er indholdet af monocolin K. Kemiske analyser viser, at lovastatin og moncolin K er identiske, men hvor lovastatinen er en syntetisk variant, brugt som konventionel medicin, er monocolin K i de røde ris skabt ved en naturlig fermentering. Det, at det er naturligt, gør, at man får en stribe fordele ved det naturlige valg. De fermenterede røde ris er nemlig spæk- ket med essentielle fedtsyrer, vitaminer og mineraler. Rød fermenteret ris er hverken kemisk forarbejdet, renset eller koncen- treret. Det er et rent økologisk pulver med 8-10 forskellige gærproducerede naturligt forekommende monocoliner.
Kolesterolsænkende medicin har bivirkninger
I lægeverdenen anvendes statiner ved forhøjet kole- sterolindhold i blodet.
De syntetiske statiner kan dog give en række bivirkninger såsom mavesmerter, luft fra tarmen, diarré, kvalme, forstop- pelse, opkastning, muskelkramper, muskelsmerter, hovedpine, svimmelhed, hududslæt og synsforstyrrelser.
Ud over at være mad anvendes røde ris også i traditionel kinesisk medicin. Anvendelsen er dokumenteret helt tilbage til Tang-dynastiet i Kina 800 e. Kr. De røde ris blev indtaget for at puste nyt liv i kroppen, støtte en god fordøjelse og revitalisere blodet
Rød ris sammen med Q10
Man kan ikke nævne rød ris og kolesterolsænkende effekter uden også at nævne Q10. Sagen er den, at Q10 er et co-enzym, som indgår i cellernes energifabrikker, de såkaldte mitokondrier. Q10 er vigtig for en normal energiproduktion i kroppen, bl.a. giver Q10 hjertemusklen den energi, den skal bruge. En livs- vigtig energi, som – hvis vi mangler den – kan give hjertestop.
DinSundhed sælger 100 % økologisk produce- ret fermenteret rød ris i vegetabilske kapsler og har en godkendt EFSA claim, der siger, at ved et dagligt indtag på 10 milligram monocolin K stabiliserer man kolesterolet. DinSundhed er en af de få, der har et produkt med Q10 i ubiquinol versionen, hvor leveren ikke først skal ind og omdanne stoffet, før kroppen kan optage det og bruge den livs- vigtige energi.