Så let kan ældre undgå faldulykker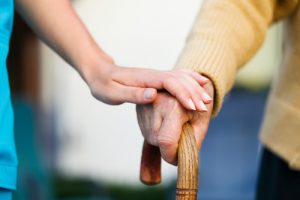 En kombination af lav-intensiv motion og D-vitamin kan ifølge japanske forskere reducere ældres risi-ko for at falde med over 70 %. Det er en nem, billig og sikker måde at beskytte sig selv på.
Af Bjørn Falck Madsen
Artiklen blev bragt i magasinet sund-forskning – april 2017
Alle kan komme ud for faldulykker, men for ældre, svækkede personer kan et uheldigt fald få katastrofale følger, hvis de efterfølgende skal tilbringe måneder i sengeleje på grund af komplicerede lårbensbrud eller andre former for frak-tur. Derfor er det positivt, at japanske forskere har påvist en metode, som kan mindske risikoen for faldulykker mar-kant. Ved at de ældre motionerer dagligt ved lav intensitet og samtidig tager en høj dosis af D-vitamin, som netop er vigtigt for muskler og knogler, kan de reducere risikoen for at falde med over 70 %.
Vigtigt med kombinationen
Forskningen, som er offentliggjort i tidsskriftet International Journal of Gerontology, er udført på i alt 91 ældre, svage-lige plejehjemsbeboere, som blev tilfældigt inddelt i grupper.
En gruppe skulle dyrke motion ved lav intensitet to gange ugentligt
En gruppe fik 900 IE (22,5 mikrogram) D-vitamin dagligt
En gruppe kombinerede motion og D-vitamin
En gruppe fungerede som kontrolgruppe
I den gruppe, der blot dyrkede motion ved lav intensitet, blev risikoen for at falde reduceret med 52,5 %. Hos dem, der blot tog D-vitamin, dalede risikoen for at falde med 42,5 %. Men når de ældre kombinerede motion og D-vitamin, nå-ede de op på en 72,4 % reduktion af risikoen for at falde.
Danskere mangler D-vitamin
I Danmark er der for tiden debat om den udtalte mangel på D-vitamin, som visse eksperter mener udgør et sundheds-problem. På www.videnskab.dk kunne man den 6. februar læse i artiklen "Forskere: Put nu D-vitamin i vores mad", at nogle eksperter mener, at helt op imod 40 % af danskerne har utilstrækkeligt med D-vitamin i blodet. Fødevareberig-else er en måde at tackle det problem på, når man i de mørke og kolde måneder ikke har adgang til sollys, som ellers er den bedste kilde til vitaminet.
Testet af norske forskere
En anden anvendelig metode er at tage et tilskud af D-vitamin. Præparatet D-Pearls, som indeholder 38 mikrogram biologisk aktivt D3-vitamin (og nu også findes i kapsler med 80 mikrogram), er blevet testet på en gruppe norske sportsfolk for at dokumentere optageligheden af præparatet. Det var forskere fra Universitetet i Oslo, som stod bag forsøget, og de fandt, at både en høj og en lav dosis af D-Pearls effektivt øgede blodets indhold af D-vitamin, hvilket altså er tegn på, at det aktive stof bliver optaget i blodet.
Kilde: International Journal of Gerontology, december 2016