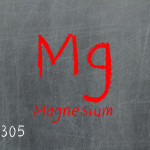 Artiklen blev bragt i magasinet sund-forskning og //mig// i december 2015
Af Julie-Charlotte Plovst
Magnesium kæmper for at overleve i kroppen
Magnesium er det fjerde mest almindelige mineral i kroppen og fungerer som en elektrolyt, samtidig med at mangel på magnesium kædes sammen med ophobning af tungmetaller i hjernen, som kan medvirke til udviklingen af Alzheimers, Parkinsons sygdom og Multipel Sclerose. For at vurdere om vi får nok magnesium, skal vi ikke kun kigge på kostens næringsstoffer. Vi er nødt til også at forholde os til de kemikalier, der kan spænde ben i optagelsen og udnyttelsen af de enkelte stoffer, når først de er kommet ind i vores krop. Magnesiummangel kan derfor have flere årsager. Magnesium +300 fra Biosym indeholder magnesiumpidolat og magnesiumoxid, som let kan udnyttes i kroppen. Produktet er registreret hos The Vegan Society, som gør det velegnet til vegetarer og veganere.
I relation til mangel på magnesium
Newcastle University offentliggjorde i 2014 en metaanalyse (1) på 343 videnskabelige artikler i The British Journal of Nutrition, hvor økologisk frugt og grønt blev sammenlignet med ikke-økologisk. Der var åbenlyse helbredsmæssige risici ved indtagelse af ikke-økologiske fødevarer. Hvad har det med magnesium at gøre?
I et forsøg med lysterapi med apparatet YumaLite i forhold til vinterdepression er der set opløftende resultater. Tredive forsøgspersoner med diagnosticeret vinterdepression blev rekrutteret og randomiseret til to behandlingsgrupper. Gruppe A modtog en times lysbehandling hver morgen i fire uger. Gruppe B modtog fem minutters lysterapi i de to første uger, og en time om dagen de resterende to uger. Hamilton Rating Scale for Depression (HAM-D) blev brugt som vurderingsredskab i forhold til graden af depression. Resultaterne af HAM-D viste en tydelig reduktion i depressionssymptomer allerede ved første uges behandling og med fortsat effekt resten af forsøgsperioden.
Hello mr. INCI
Der er ikke noget at sige til, hvis du ikke helt er med på, hvad ingredienslisten bag på dit hudeplejeprodukt betyder.
Bivoks: Cera Alba
Grapeolie: Citrus Grandis Oil
E-vitamin Tocopherol
Kamille: Matricaria Chamomilla
Lemongræsolie: Cymbopogon Flexuosus Oil
Morgenfrue: Calendula Officinalis
Ylang-ylangolie: Cananga Odorata Oil
Kilde: www.urtegaarden.dk/media/47571/dansk-inci-fortegnelse.pdf