7 gode tips til en glad og skarp hjerne!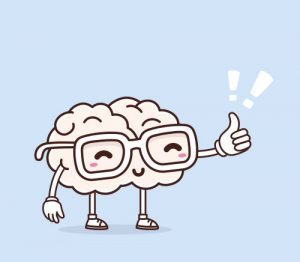 Bridge, krydsord eller skak kender de fleste af os som god træning for hjernecellerne. Jo mere du bruger din hjerne, jo mere bevarer den sin evne til at lade sig røre. Hjernegymnastik er guld værd, men det kan blive meget hårdt arbejde, hvis den mangler det rette brændstof. Det er nemlig ikke kun kroppen der har god gavn af sundhedsfremmende næringsstoffer, det samme gælder for hjernen. Og husker du så også at smile lidt hver dag, så ved man, at mange strabadser kan undgås.
Det er slet ikke så svært at gøre noget godt for hjerne og sind. Tag disse syv tips til dig, og træn dig i at udøve dem hver dag. De kan skabe bedre koncentration, bedre hukommelse og generelt give dig et større velvære mentalt såvel som fysisk.
Spis mange små måltider, det holder blodsukkeret stabilt og giver dig en god jævn energi fordelt over hele dagen.
Drik en tilpas mængde vand, de fleste drikker desværre for lidt. Du skal drikke 1,5 – 2 liter, hvis du ikke motionerer og helt op til 3 liter, hvis du motionerer eller sveder meget (fx pga. overgangsalderen)
Spis masser af groft og grønt og lad kødet være tilbehør. Ikke omvendt. Så får du masser af aktive plantestoffer, der virker gunstigt på både hjernens og kroppens celler.
Spis et godt tilskud af vitaminer og mineraler, for det er faktisk svært at spise sig til en god vitamin- og mineralbalance. Spørg evt. din helsekostbutik efter de bedste produkter.
Få god energi gennem specielle urteprodukter, der hjælper mod stress, og hjælper din hjerne til at fungere bedre. Der findes flere, men adaptogene urter såsom Rosenrod, Schisandra og Ginseng er nogle rigtig gode valg. De to først nævnte er rolige kropsbalancerende og energigivende droger, den sidste nævnt; Ginseng, bruges særligt af sportsfolk, hvor der er brug for ekstra meget energi (vær varsom ved stress).
Spis et godt tilskud med plante- og fiskeolier. Hjernen er en særlig fedtklump, der består af – og fungerer på fedt og komplekse kulhydrater. Den skal have tilført både omega 3 og omega 6 fedtsyrer for at være styrket i det daglige arbejde.
Motion er ikke bare gymnastik for kroppens celler, men i stor stil også for hjernen. Den vågner ganske simpelt ved en rask gåtur eller anden motion, der gør dig glad. Formen er ikke det vigtigste, det er, at det er noget du kan lide og at du gør det minimum en time hver dag.
Lider du af alvorlige problemer med svimmelhed, hukommelse og koncentration, så opsøg altid din læge og derefter gerne nogle dygtige behandlere, der kan guide dig til et sundere liv.