Daglig multivitamin beskytter mod kræft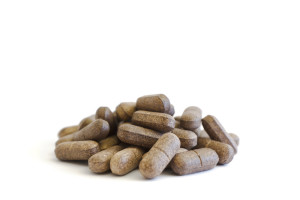 Mænd, der tager et dagligt tilskud af vitaminer og mineraler, kan sænke deres risiko for kræft med otte procent. Ganske vist lyder det ikke af meget, men hvis hver eneste danske mand fulgte rådet, ville det indebære, at adskillige tusinde kunne undgå en kræftdiagnose – og i øvrigt er der tale om en ganske harmløs intervention, som desuden har en række andre fordele. 
Af Bjørn Falck Madsen
Artiklen blev bragt i magasinet sund-forskning.dk – vinter 2013

Otte procent reduktion
Det er forskere fra Harvard Medical School, som har analyseret data fra en 11-årig undersøgelse af over 14.000 mandlige læger og deres vitaminpilleforbrug. Blandt dem, der tog vitamin- og mineraltilskud, var den samlede kræftreduktion otte procent, men forskerne fandt ingen specifik reduktion i typiske "mandekræftsygdomme" som eksempelvis prostata-kræft.

Pas på med jern
En ting, som mænd skal være forsigtige med, når de tager multivitaminer, er jern. Et øget jernindtag kan være direkte skadeligt, hvis man i forvejen har rigeligt med det mineral i blodet, og det er tilfældet for majoriteten af mænd. Præparatet Multivitamin
Pharma Nord tager højde for dette og indeholder derfor ikke jern. Det indeholder til gengæld det vigtige sporstof selen i form af den veldokumenterede og letoptagelige organiske selengær, SelenoPrecise. Kilde: The Nutrition Reporter, Januar 2013

Uventet håndsrækning i kampen mod prostatakræft
Normalt kender vi coenzym Q10 som et stof, vi kan anvende for at få mere energi og endda også forbedre hjertets pumpekraft, ligesom omega-3-fedtsyrer mest af alt bruges til at beskytte kredsløbet og sænke kredsløbet. Iranske forskere har imidlertid demonstreret, at begge stoffer kan noget helt tredje, som især mænd kan få gavn af: de sænker blodets indhold af PSA (Prostata-Specifikt Antigen), som er en markør for mulig udvikling af prostatakræft.
I en undersøgelse af over 500 mænd var omega- 3 i stand til at reducere PSA-tallet med 30 %, hvor coenzym Q10 mindskede tallet med ikke mindre end 33 %. Omvendt observerede forskerteamet, at tilskud af omega- 6 (en fedtsyre som de fleste af os i øvrigt får for meget af i kosten) øgede PSA-tallet med 15 %. Det skal dog retfærdigvis nævnes, at det var en unormalt høj omega-6 dosis, der blev anvendt i undersøgelsen.
Kilde: British Journal of Nutrition, November 2012, vol. 30, side 1-8

Q10 giver dig bedre sædkvalitet
Mænd med nedsat sædkvalitet kan blive hjulpet med et tilskud af stoffet Q10. Det viser resultaterne af en iransk undersøgelse, som er offentliggjort i tidsskriftet Andrologia. Undersøgelsen, som var dobbelt-blind og placebo-kontrolleret, strakte sig over tre måneder og viste, at de mænd, som havde fået 200 mg Q10 dagligt, havde reduceret oxidativ stress, som er en tilstand med ødelæggende indvirkning på sædcellers kvalitet og funktionsduelighed.
Forskerne observerede ligeledes, at mændene i Q10- gruppen producerede betydeligt færre misdannede sædceller og desuden havde forhøjet aktivitet af de to vigtige antioxidantenzymer, katalase og SOD (superoxid dismutase). Begge har betydning for beskyttelsen af blandt andet sædceller.
I det danske præparat B-Daddy er Q10 kombineret med selen, et andet stof med en stimulerende indvirkning på de beskyttende enzymer. Præparatet henvender sig specielt til mænd med nedsat fertilitet.
Kilde: Andrologia, januar 2013 (udgivet elektronisk)
Statiner giver muskelsmerter
Hvis du har ondt i musklerne, er det ikke nødvendigvis, fordi du er gået for hårdt til værks nede i fitness-centret. Mange mænd anvender nemlig kolesterolsænkende statiner, som hos visse kan forårsage muskelsmerter. Statiner blokerer effektivt for leverens dannelse af kolesterol, men samtidig hæmmer medicinen kroppens produktion af stoffet coenzym Q10, som ligeledes dannes i leveren og desuden er nødvendigt for energiomsætningen i blandt andet muskelceller. Man kan forebygge problemet ved at kombinere statinbehandlingen med Q10-tilskud.