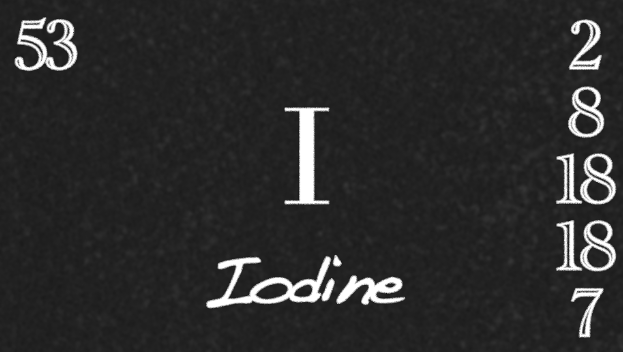 Jod er et livsnødvendigt sporstof. En voksen indeholder ca. 20-50 mcg, hvoraf 2/3 er lagret i skjoldbruskkirtlen. Så vidt man ved, er jods eneste funktion at indgå i skjoldbruskkirtlens to hormoner, der styrer stofskifteprocesserne i hele vores krop. 
Skjoldbruskkirtelhormonerne hedder T3 (trijodthyronin) og T4 (thyroxin) – alt efter hvor mange jodatomer, de indeholder. T3 virker langt hurtigere end T4, der mere betragtes som et forstadium til T3.
Selen indgår desuden i de enzymer, der regulerer aktiviteten af hormoner. Det kan bl.a. ske ved at fjerne et bestemt jodatom, således at det passive T4 hormon omdannes til det aktive T3 hormon.
Dannes for lidt T3 hormon, bliver stofskiftet lavere, og dannes for meget, bliver det højere. Derfor er det essentielt, at der både er jod og selen til stede under reguleringen.
Funktioner og betydning for
Skjoldbruskkirtlens hormoner T3 og T4
Kroppens stofskifte
Børns vækst
Energiomsætning
Vægtregulering
Mangler og dårlig udnyttelse forårsages af
Mangelfuld kost, især uden maritime kilder som fisk og skaldyr
Mangelsymptomer
Struma (forstørret skjoldbruskkirtel)
Især for lavt stofskifte med træthed, langsom puls, kuldefornemmelse og vægtøgning.
I få tilfælde forhøjet stofskifte med hjertebanken, uro, forhøjet blodtryk, øget appetit og vægttab.
Børn: Struma, dværgvækst eller mental retardering
I svangerskab: fosterskader
Kilder
Især kilder som tang, fisk, skaldyr, fiskesovs og havsalt. Desuden mejeriprodukter og æg.
Struma har været meget udbredt i Danmark, og derfor har man siden 1998 tilsat jod til bordsalt for at forebygge sygdommen.
Anbefalet daglig tilførsel
Voksne 11 år og opefter: 150 mikrogram
Børn 1-10 år: 70 mikrogram
Gravide og ammende: Henholdsvis 175 og 200 mikrogram
Øget behov
Børn i voksealderen
Ældre
Gravide
Vegetarer og veganere
Vigtigt at vide
Man kan både have struma og lavt stofskifte uden at mangle jod. Stofskifteproblemer kan også skyldes mangel på selen, der regulerer stofskiftehormonerne.
Opvarmning sænker fødevarers indhold af jod.
Overdosering – bivirkninger
Vi tåler forholdsvist store mængder jod, men for store mængder over en for lang periode kan hæmme dannelsen af skjoldbruskkirtelhormoner og både medføre for højt og for lavt stofskifte. Gravide og ammende skal være særlig forsigtige, fordi overdosering kan nedsætte funktionen af barnets skjoldbruskkirtel.
Slankepiller med store mængder jod kan på sigt skade hormonbalancen.
Reference:
http://healthandscience.eu/index.php?option=com_content&view=article&id=267:jod-j&catid=45:vitamin-og-mineral-guiden&Itemid=293&lang=da
Læs mere her
Få styr på stofskiftet og den oversete sundhedsfare
Døjer du med ekstrem træthed, håbløse slankekure, kuldskærhed, svedtendens eller voldsom trang til slik og andre hurtigere energifix? Ja, så hører du måske til det stigende antal, der har problemer med stofskiftet. Mangel på særlige næringsstoffer – især jod og selen er et overset problem  både i forebyggelse og behandling.
Har du problemer med dit stofskifte? 
Ny bog af Pernille Lund, der beskriver stofskiftet som en spændende rejse – lige fra vi indtager næringsstofferne, til de omsættes til energi. Undervejs er der masser af gode råd til, hvad du selv kan gøre, så du får styr på stofskiftet og få det bedre.