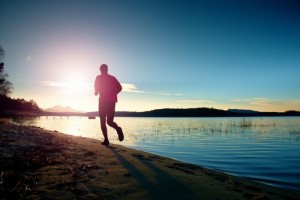 Brevkassebesvarelse af Dion Knudsen, bragt i magasinet sund-forskning i december 2012
Hej Dion
Er endelig kommet i gang med træningen igen. Efter sommerens og efterårets nydelser med god mad og vin, er der kommet ekstra kilo på maven. Jeg styrketræner kun og føler mig godt tilpas med det. Ser allerede et resultat og føler mig også stærkere. Jeg bryder mig ikke så meget om konditionstræning, da jeg keder mig ved løb.Vil gerne hurtigt af med de ekstra kilo, men synes ikke rigtig, vægten går nedad. – Skal jeg bare fokusere på styrketræningen, indtage mere fedtfattigt mad og undgå sukker?
Hilsen Line
Hej Line
Dejligt, at du er kommet i gang med træningen.
Styrketræning er rigtig godt for muskler, sener og knogler, både til yngre og ældre. Men du skal også have pulsen op. Ved konditionstræning får du bedre blodcirkulation, da kredsløbet påvirkes. Kredsløbet består af hjertet, blodet og lungerne. Kroppen bliver bedre til at optage ilt, og jo mere ilt der optages i kroppen, transporteres og udnyttes, jo større kapacitet. Hvilket har stor betydning for vores præstation i dagligdagen. Det er normalt at vægten ikke går nedad, når du begynder at styrketræne – det går derimod den anden vej. Muskler vejer, men ser du resultater på din krop, går det jo den rigtige vej.
Ved fedtforbrænding skal du have pulsen op. Du kan gøre løbetræningen sjovere ved at træne intervaltræning,som er skiftevis højt-lavt tempo, her opnås også bedre resultat. Cykle, svømme, danse eller aerobic er også gode alternativer til konditionstræning. Hvis det kniber med at afsætte tid til træning, skal du fokusere på at træne hårdt i den tid, der er til rådighed.
Til dit spørgsmål om fedtfattig mad siger ordsproget: "Du er, hvad du spiser". Grøntsager og fisk er specielt det, som danskerne ikke får nok af. De indeholder vitaminer og mineraler, som er essentielle for vores almindelige funktion og vores evne til at respondere på styrketræning. Er du til den søde smag, så brug Stevia i stedet for sukker. I madlavningen, desserten eller i kaffen. En urt, som Guaranay-Indianerne brugte for 1500 år siden som sødemiddel. Det er et 100 % naturprodukt og helt uden kalorier. Pas på med mængden, der skal ikke tilsættes særligt meget.
Forsæt med styrketræningen og tilføj lidt intervalkonditionstræning. Spis sund mad, så skal de ekstra kilo nok fordele sig pænt.
Hilsen Dion