Træforme – er det lykken?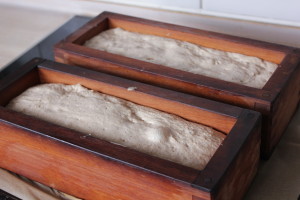 Det korte svar på det spørgsmål er "ja"! I hvert fald hvis du holder af at bage dit eget brød.
Bageformene i bøgetræ kommer fra bageriet Aurion. På Aurion bages en stor del af deres lækre brød i træformene og bagermester Jørn Ussing skriver og fortæller om dem med stor begejstring. Kender du Claus Meyers bagebøger, er du sikkert også stødt på træformene.
Hvad er det så træformene kan?
Hvis du normalt bager i metalforme, har du måske oplevet at brødet kan få en metallisk smag? Når brød hæver og bages, dannes der mælkesyrebakterier som kan angribe metalformen og derved afgives metalsmag til brødet.Dette undgår du, når du bager dit brød i træforme.
En anden stor fordel ved træformene er, at de er mere "træge" med hensyn til at transportere varmen ind til siderne af brødet. Derfor anbefales det også, at du bager sit brød i længere tid ved lavere temperatur end ellers.
Nå ja, og så er der også den helt objektive vurdering. Brødet smager bare bedre, når det er bagt i en træform. Se bare et par af de udtalelse, der kom, da vi delte smagsprøver på kamutbrød bagt i træforme ud til Grøn Festival i Økologiens Have i Odder:
"Det får mig simpelthen til at tænke på min barndom"
og
"Det var sådan sigtebrødet smagte i min barndom"
Ret stærkt at opleve, at smagen af et brød sådan kan vække minder frem – gode minder, må vi håbe – så mange år efter (begge de to besøgende havde i hvert fald passeret de 60). Det var i hvert fald den største ros jeg synes vi fik i løbet af den dag. Men ikke den eneste. Langt fra.
Til Sund Livsstil messen i Aarhus d. 6. – 8. marts kan du også få en smagsprøve på lækkert brød bagt i træforme. Hver dag kl. 14 vil der være mulighed for at smage brødet og under hele messen, vil du kunne købe træformene til en rigtig god pris.