YIN YANG – de evigt tilbagevendende kræfter

Af Torben Hecksher Feng Shui Master
Yin yang balancen
Yin og Yang er et symbol på den evigt skiftende balance mellem to modsætninger – YIN og YANG – hvor YIN symboliserer det mørke, dybe, feminine, følsomme, kærlige, lave osv, og YANG det lyse, energiske, lidenskabelige, maskuline, alvorlige, høje osv.
Dynamikken i universet
Det er denne konstante vekslen mellem YIN og YANG (modsætninger/poler), der skaber dynamikken i universet og livet her på jorden. I stedet for de to symboler, Yin og Yang, kan du indsætte en hvilken som helst anden situation, fx. hvid/sort, rig/fattig, syg/rask, glad/ked af det, kold/varm, mand/kvinde, lys/skygge, høj/lav, stilhed/larm, optimist/pessimist, i arbejde/arbejdsløs, ung/gammel, ond/god, succes/fiasko osv. Uden den ene mister den anden sin betydning. Hvis alt var hvidt, kunne vi ikke skelne nogen fra hinanden.
Livet er ikke kun sort eller hvidt
Det er modsætningen sort (skyggerne), der giver hvid mening. Hvis alt var sort, kunne vi ikke se noget. Vi ville være omgivet af mørke, og var alle rige ville begrebet fattig være meningsløst. Og hvis alle var raske, ville begrebet syg ikke eksistere. Yin Yang begrebet er således et billede, der viser, at der i mellem to yderpunkter altid findes en række mellem-situationer. Livet er ikke kun sort eller hvidt. Imellem yderpunkterne høj og lav finder der jo uendeligt mange forskellige højder.
Det er præcis det Feng Shui Masters boligbesøg går ud på: At skabe lige netop den yin yang balance, der giver dig og din familie succes. Succes i familielivet, kærligheden, karrieren, helbredet, børnenes trivsel, fertilitet osv.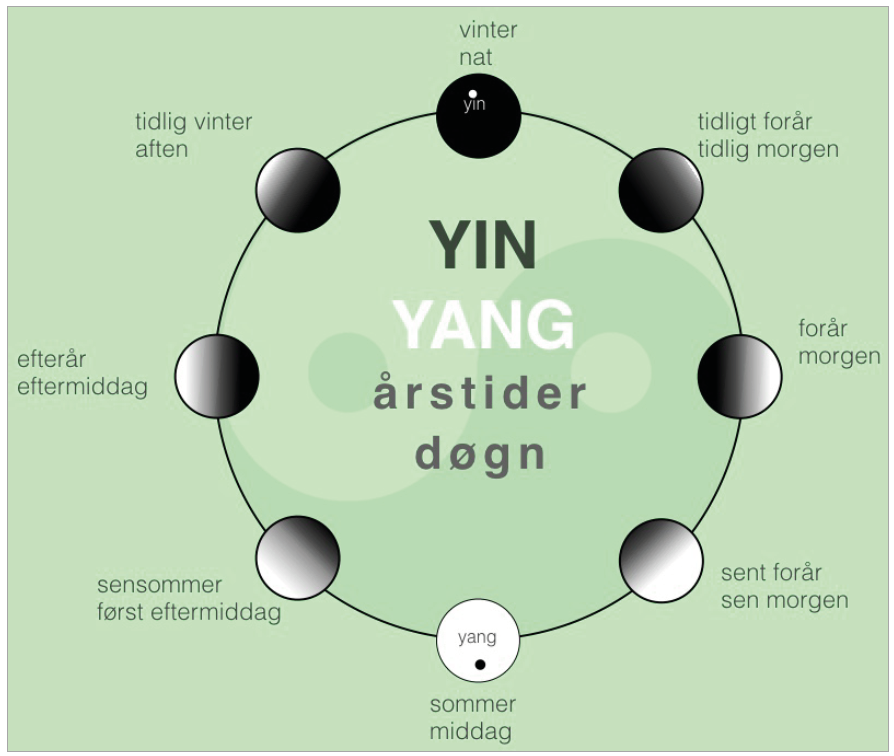 Som du kan se på figuren er både døgnet og året underlagt den evige vekslen mellem Yin og Yang, og vi reagerer automatisk på den skiftende balance. Både i løbet af døgnet (morgen, formiddag, middag, eftermiddag, aften og nat) og i løbet af året (vinter, forår, sommer, efterår), og balanceforholdets skiften sætter sit præg på os. I de kommende 3 måneder vil YIN YANG balancen gå fra YIN mod YANG og vi vil i stadigt stærkere grad mærke, hvordan optimismen, glæden og aktiviteten øges i samme takt.. Foråret er præget af optimisme, glæde og lyst til at starte noget nyt.
Uddannelse
Skulle du få lyst til at uddanne dig som feng shui konsulent, tilbyder vi dig 2 muligheder at vælge imellem, ONLINE og INTENSIV. På dette link kan du læse mere om de to uddannelsesforløb, herunder priser og tidsforløb. Savner du en kæreste at dele foråret med, så bestil en "Den Magiske Vase ®" konsultation. Det virker faktisk. Læs mere her "Den Magiske Vase®"
Nyd perioden og glem ikke, at positiv skaber positiv. På gensyn
Torben Hecksher Feng Shui Master
PS.
Vi holder INTRO-aften den 3.maj kl.18-20. Tilmelding kan ske her.