Allergier stormer frem verden over – forskerne prøver at forstå hvorfor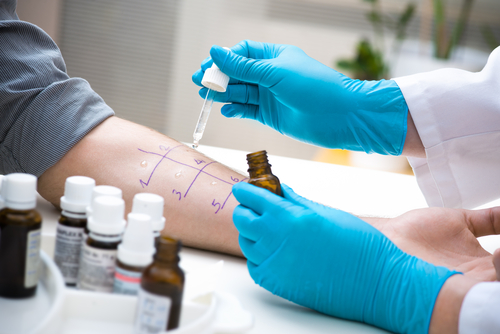 Af Tobias Schmidt Hansen, læge med speciale i urter, vegetar og veganerkost
Artiklen blev bragt i magasinet sund-forskning og //mig// – vinter 2015
Siden 1991 har ISAAC (The International Study of Allergies and Ashtma in Childhood) forsøgt at løse gåden omkring den eksplosive tilvækst af de allergiske sygdomme astma, høfeber og eksem, som verden oplever. Studiet har nu fulgt næsten 2 millioner børn i 105 lande og produceret over 500 videnskabelige artikler, hvilket gør det til verdens største epidemiologiske studie.
I den først fase af studiet, hvor man fokuserede på at beskrive udbredelsen af sygdommene, fandt man, at der var mas-sive nationale forskelle, når det kom til hvor mange børn, der var påvirket af allergiske sygdomme. I nogle lande var antallet af sygdomsramte børn 30 gange så højt som i andre lande, hvilket indikerer, at årsagerne skal findes i det lokale miljø. Et andet interessant fund var også, at der i det store hele ikke var væsentlig forskel blandt antallet af aller-giske sygdomme i rige og fattige lande. Dette afkræfter den ellers så populære hygiejneteori, der antog, at stigningen i de allergiske sygdomme skyldes børns manglende udsættelse for bakterier.
I den for nyligt afsluttede tredje fase af studiet har man forsøgt at undersøge en lang række mulige risikofaktorer. Som forventet fandt man, at trafikal forurening var en stor synder. Men mere interessant er det måske, at man også fandt, at indtag af Panodil og antibiotika i et barns første leveår syntes at øge risikoen for allergiske sygdomme senere i barn-dommen. Der var dog ingen af de undersøgte risikofaktorer, der for alvor kunne forklare hverken de store nationale forskelle eller den stigning i disse sygdomme, som verden oplever.
Studiet har dog kunnet give os et vigtigt spor. Det viste nemlig, at det, som beskyttede bedst imod allergiske sygdomme, var en diæt rig på vegetabilsk mad. Desto mere frugt og grønt børnene indtog, desto mindre var risikoen for at blive syg. En lang række mindre studier er kommet til samme konklusion. Bl.a. viser et studie, at man kan halvere risikoen for at få allergisk astma ved et højt indtag af frugt og grønt. Det har fået forskere til at undersøge, hvorvidt allergiske sygdomme til dels skyldes en mangel på antioxidanter. Det er der noget, der kunne tyde på, da man har fundet, at allergikeres niveauer af kendte antioxidanter som fx beta-caroten er betydeligt lavere end normalt.
Det har ført til spekulationer om, hvordan andre fødevarer påvirker de allergiske sygdomme. Særligt fødevarer, der indeholder store mængder mættet fedt såsom kød, mejeriprodukter og æg er kommet i fokus, da man ved, at disse er forbundet med en øget produktion af frie radikaler og dermed et større forbrug af antioxidanter. Den teori synes nu at være påvist, da flere studier viser, at disse fødevarer foruden at fremme udviklingen af allergiske sygdomme også kan forværre deres forløb. Sammenhængen mellem allergiforekomster og indtagelse af mættet fedt har imidlertid ikke været så stærk som forventet. Dette tyder på, at antioxidant-teorien formentlig ikke er hele forklaringen på disse føde-
vares allergifremkaldende egenskaber.
En årsag til dette kan meget vel være, at indtagelse af kød er én af de primære kilder til den mængde af hormonforstyr-rende stoffer, vi udsættes for. Disse stoffer er særdeles udbredte i naturen – dog heldigvis sjældent i en størrelsesorden, der kan udøve direkte skade på mennesker. Da stofferne er meget svære at udskille, ophobes de over tid i vores land-brugsdyr, og her igennem kan vi få doser, der er allergifremkaldende.
Samlet set er vi efter årtiers massiv forskning kommet lidt tættere på at forstå disse komplekse sygdomme. Det er selv-sagt sygdomme, hvor der ikke kan findes en enkelt årsag. Der er dog nu meget, der tyder på, at én af årsagerne til den vækst, vi ser, skal findes i det skifte, der ses i store del af verden væk fra en overvejende vegetabilsk kost, der er rig på antioxidanter, til en vestlig diæt med mange animalske produkter, der er rige på mættet fedt og hormonforstyrrende stoffer.
Referencer
Asher MI, Stewart AW, Mallol J, Montefort S, Lai CK, Aït-Khaled N, Odhiambo J; ISAAC Phase One Study Group. Which population level environmental factors are associated with asthma, rhinoconjunctivitis and eczema? Review of the ecological analyses of ISAAC Phase One. Respir Res. 2010(11):8.J Mallol, J Crane, E von Muthius, J Odhiamo, U Keil, A Stewart, ISAAC Phase Three Study Group. The International Study of Asthma and Allergies in Childhood (ISAAC) Phase Three: A Global Synthesis. Allegrol Immunopathy (Madr.). 2013 41(2):73-85.
JL Protudjer, GP Sevenhuysen, CD Ramsey, AL Kozyrskyj, AB Becker. Low vegetable intake is associated with allergic
asthma and moderate-to -severe airway hyperresponsiveness. Pediatr Pulmonol. 2012 47(12):1159-69.
HJ Tsai, AC Tsai. The association of diet with respiratory symptoms and asthma in schoolchildren in Taipei, Taiwan.
J Asthma. 2007 44(8):599-603.
L G Wood, M L Garg, R J Blake, S Garcia-Caraballo, P G Gibson. Airway and circulating levels of carotenoids in asthma
and healthy controls. J Am Coll Nutr. 2005 24(6):448–455.
Lindahl O, Lindwall L, Spångberg A, Stenram A, Ockerman PA. Vegan regimen with reduced medication in the
treatment of bronchial asthma. J Asthma. 1985;22(1):45-55.
NA Yusoff, SM Hampton, JW Dickerson, JB Morgan. The effects of exclusion of dietary egg and milk in the management of asthmatic children: a pilot study. J R Soc Promot Health. 2004 124(2):74-80.
J.L. Suen, C.H. Hung, H.S. Yu, S.K. Huang. Alkylphenols — potential modulators of the allergic response. Kaohsiung J
Med Sci. 2012 28(7 -Suppl):S43-8.